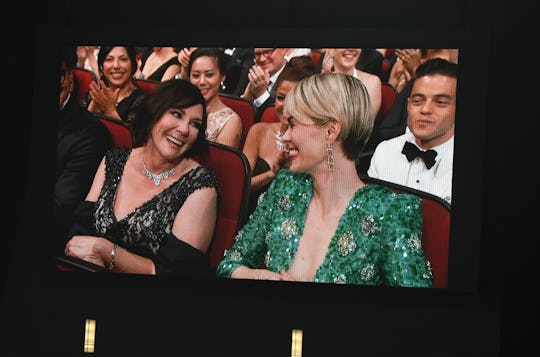 Kevin Winter/Getty Images Entertainment/Getty Images
Sarah Paulson Apologized To Marcia Clark In Her 2016 Emmys Speech And It Was Heartwarming
Going into the 2016 Emmys, FX's mega-hit The People v. OJ Simpson: American Crime Story already seemed poised for a tremendous awards sweep. It was nominated for 22 awards in various limited series categories, with virtually every main cast member picking up a nod for their impressive performances. Sarah Paulson is among them, and won an Emmy for her portrayal of the infamous OJ prosecutor, Marcia Clark. Even better, Sarah Paulson apologized to Marcia Clark in her 2016 Emmys speech, and it was an absolutely heartwarming moment that, despite the numerous nominations, viewers couldn't have predicted.
So many aspects of The People v. OJ were critically-acclaimed, from the writing to the direction to the stellar acting. Many wondered how the show would pull off portraying a relatively recent historical event – and one that had already garnered significant press coverage, to boot – while remaining "fair," respectful and entertaining. Going in, viewers were skeptical that the series could shed new light on a case that had, from the perspective of many, already been analyzed ad nauseam.
In particular, Clark caught a lot of flack during the "media circus" that was the OJ trial, both for her looks and her perceived demeanor. Paulson's portrayal of Clark in the limited series was outstanding on all levels and illuminated an entirely new aspect of Clark, along with the personal struggles that she was dealing with during the trial – particularly her divorce, family issues, and the difficulties of being a single mother and a woman in the male-dominated legal field. Perhaps no other episode illuminated Clark's perspective as well as "Marcia Marcia Marcia," which followed Clark's reactions to the ongoing sexist media criticism of her appearance (specifically, her hair) and the perm makeover seen 'round the world.
As expected, in researching the role, Paulson grew quite close to her "character." She even brought Clark as her "date" to the awards show, as a tribute to the much-beleaguered former prosecutor.
When Paulson won the award, she immediately threw her arms around Clark, who was visibly thrilled for the actress. After thanking her talented co-stars and giving an absolutely adorable shout out to her partner Holland Taylor, Paulson turned her attention to Clark herself and, particularly, the media's overly-critical and unkind portrayal of the former prosecutor at the time of the trial.
Paulson highlighted the enormous responsibility of accurately and honorably portraying a real person on screen. She also mentioned how difficult that respsponsibility can be to bear, as you want to "get it right" when you're portraying someone who is still alive. She mentioned that the more she learned about the real Marcia Clark, the more she realized that she, herself (along with the general public), had been "careless and superficial" in their assessment of her. Paulson offered her a heartfelt apology for how she'd judged Clark way back when, long before truly getting to know the real Clark, and portraying her in a critically-acclaimed TV series.
It was a lovely and classy moment, proving yet again that Sarah Paulson is an incredible actress and person.