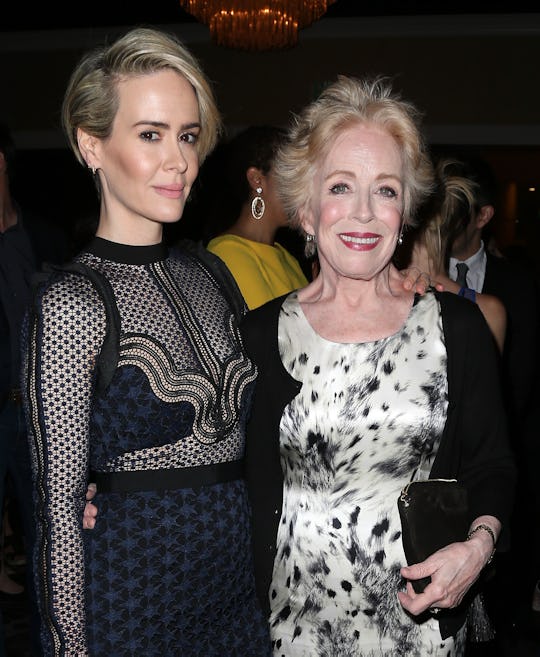 Frederick M. Brown/Getty Images Entertainment/Getty Images
Sarah Paulson Mentions Holland Taylor On The 2016 Emmys Red Carpet, & It Was Super Sweet
Sarah Paulson has never been one to flaunt her personal life. But the actress, who is the favorite to win Outstanding Lead Actress in a Limited Series Or Movie at the 2016 Emmys for her portrayal of Marcia Clark, made her love life a part of her red carpet interview. Sarah Paulson mentioned Holland Taylor on the 2016 Emmys red carpet in her interview with Giuliana Rancic, which is super sweet.
"Hi Holland," she tacked on to the end of her Q&A, waving into the camera. "If you're watching, Holland Taylor, I love you."
Unfortunately, her partner couldn't join her at the award show, because Paulson opted to bring Marcia Clark to the Emmys with her instead. Paulson was nominated (and :Spoiler Alert: won) an Emmy for her portrayal of the Los Angeles prosecutor in The People v. O. J. Simpson: American Crime Story. The role clearly had a huge impact on Paulson, since she confessed that she can't even bring herself to watch the performance out of how deeply she feels for Clark in the story.
"I don't want to watch her lose, and I know that's what happens," Paulson told Rancic.
But perhaps the cutest part of her shoutout to her partner back home was Taylor's response, delivered via Twitter.
And just before she replied, Taylor sent an equally adorable tweet, literally swooning over her partner on screen.
The couple has courted plenty of media attention, mostly because Holland Taylor had never formally come out before announcing that she was dating a much younger woman, according to TV Guide. That person turned out to be Sarah Paulson, who had been out since casually kissing then-girlfriend Cherry Jones on a red carpet back in 2005. Then, of course, there's the couple's age difference. But 73-year-old Taylor and 41-year-old Paulson are no less than stunning together when they make appearances in public.
Paulson, of course, wound up winning the Emmy for Outstanding Lead Actress in a Limited Series Or Movie. She delivered a long, painstakingly rehearsed speech, mostly honoring the real-life inspiration behind her character, Marcia Clark. Paulson even went so far as to apologize to Clarkson for the way the media — and the whole country — portrayed and treated her. But at the very end of the speech, Paulson threw in a shoutout for her partner.
"And Holland Taylor, I love you," she concluded, before gracefully gliding off-stage.
Of course, Taylor responded in kind.
Hopefully they can be reunited on the red carpet again soon.