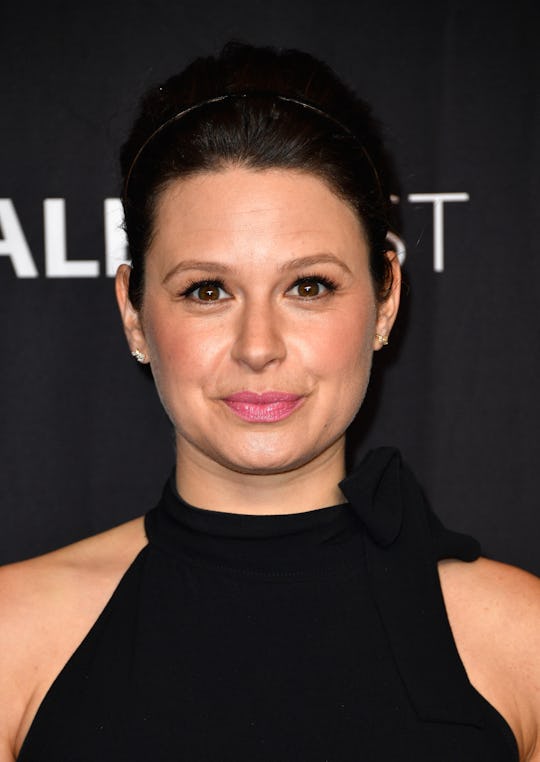 Frazer Harrison/Getty Images Entertainment/Getty Images
'Scandal's Katie Lowes Is Pregnant
During an appearance on Jimmy Kimmel Live! Thursday, Scandal actress Katie Lowes revealed that she's pregnant — and she was forthcoming with the details. Even though some stars opt to keep their sex of their babies a secret from the public pre-birth, Lowes excitedly told the comedy show host that her first baby with husband Adam Shapiro is a boy. Still, there was some information that she couldn't yet share, like the baby's name — and that's because the new parents-to-be are at a total loss in that department so far, the 35-year-old told Kimmel.
"It's a boy!" she announced to the audience after spending a few moments congratulating Kimmel on the recent birth of his own son. "We have zero names."
That is, except for the family joke that the couple's first child would be named after basketball star LeBron James. As Lowes shared with Kimmel:
My husband's a huge basketball fan so for years we've been calling him "LeBron." It's a joke, like, when people come over to the house, there's a room right next to our room, and we'll say, "You know, someday this is going to be LeBron or LeBrona's room."
But Kimmel, who has a 2-year-old daughter named Jane and a newborn named Billy, had some suggestions: How about Jelatin — with a J — he asked, or Dump Truck Shapiro?
While Kimmel was quick with the name recommendations after learning Lowes' big news, her boss, Scandal creator Shonda Rhimes, didn't even need to be told. Instead, Rhimes had figured out that Lowes was pregnant from watching edits for the show, even though Lowes said that she let Rhimes in on the secret "five minutes from being pregnant." Clearly, Rhimes doesn't miss a beat. "She already knew—she's a genius," Lowes said of her famous boss Thursday.
In some ways, Kimmel was the perfect person to whom to reveal this news publicly. Shortly after his son was born April 21, he used the opening monologue of his show to share that the baby had been born with a congenital heart condition called pulmonary atresia. Now that he's had surgery, the baby will be fine, but Kimmel used his family's story to make a broader point: that the children of the United States should continue to have access to health care — a right that's in jeopardy as a Republican-controlled White House and Congress work to repeal and replace the existing Affordable Care Act.
In the midst of that very serious policy fight, though, a celebration is still in order: Congratulations to the expectant parents on their growing family!