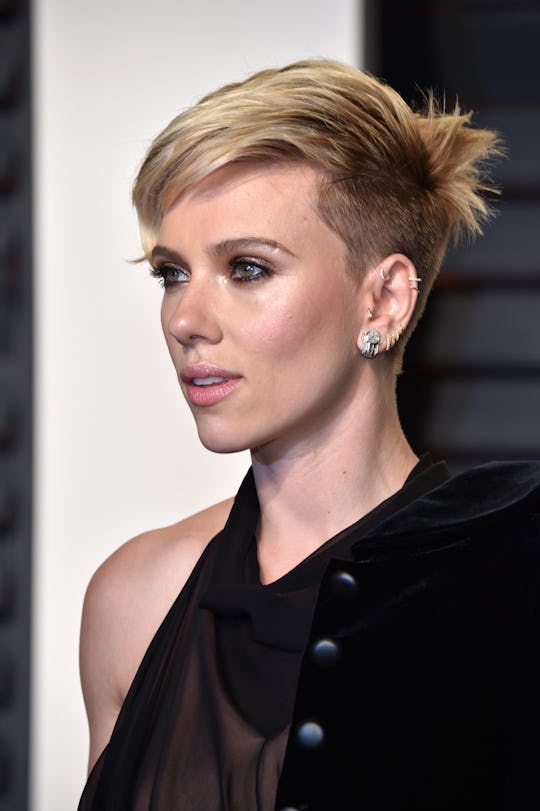 Pascal Le Segretain/Getty Images Entertainment/Getty Images
Watch Scarlett Johansson Become Ivanka On 'SNL'
Every time Scarlett Johansson is on Saturday Night Live, she kills it and this fifth appearance was no different. One highlight this week was Scarlett Johansson as Ivanka Trump in the SNL Complicit Perfume ad. Johansson is no stranger to perfume commercials, so it was a breeze for her to take on her most serious, "very sexy" female face while a male narrator describes the woman who wears the fake Complicit perfume.
"She's beautiful. She's powerful. She's Complicit. For the woman who could stop all this, but won't," the narrator says. Later, the commercial says, "I bet when she watches Titanic she thinks she's Rose. Sorry girl, you're Billy Zane." Johannson's Ivanka puts on lipstick in the mirror, but the reflection is actually Alec Baldwin as Donald Trump. The message? Like father, like daughter.
The narrator adds that the woman who wears Complicit perfume is a champion for women, as the camera pans over to Vanessa Bayer who lustily asks, "but how?" Another on the nose line about Ivanka's role in the 2016 campaign from the narrator, "We thought she cared. We were wrong." There was even a companion cologne for men by Ivanka's husband, Jared Kushner. They really thought of everything.
Trump supporters (and maybe even the president himself) will definitely not be happy about the sketch, but viewers on Twitter were loving it. Many even suggested that Johansson take on a permanent gig as Ivanka all the time. We could get behind that.
The commercial was a great way to address that fact that President Trump's daughter and her husband play a major role in the administration — even though technically nepotism clauses keep Ivanka from taking on an official role. She and her husband are reportedly the president's closest confidantes and Kushner has taken on a senior advisor job in the White House. The first daughter is one of the more sympathetic members of the Trump family. As a mother and female entrepreneur, there are many different ways for voters to connect with her.
But it's also the fact that she is close to her father, as a mother and a woman, that shocks feminists and non-Trump supporters. Instead of convincing her father to advocate for women or denouncing his lewd comments about women, Ivanka stays quiet. For feminist voters, it can be frustrating to watch.
During the campaign, Ivanka defended her father on a number of issues, including a child care and maternity leave policy that totally ignored men. This week, the GOP and Trump released a healthcare reform plan that would strip millions of people of health insurance and doesn't even require insurance plans to cover prenatal care for women.
Just like the SNL commercial said, she "could stop all this" since her father respects her opinions, but for whatever reason, chooses not to. She is, in many ways, complicit.