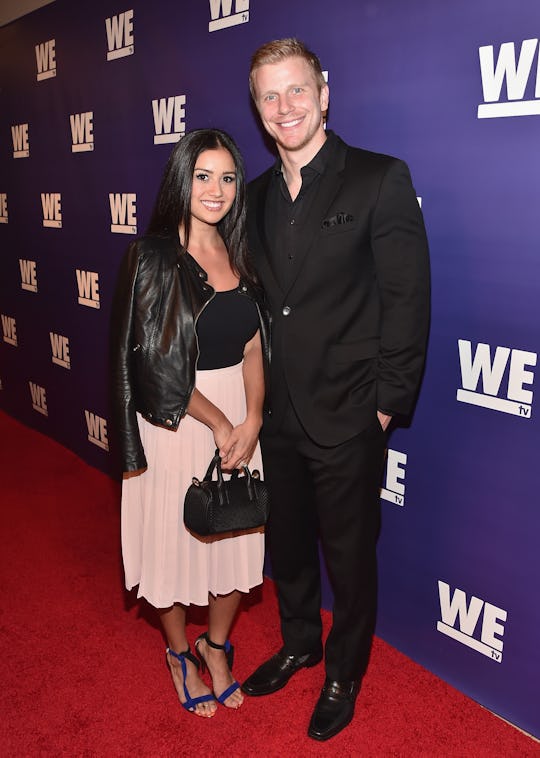 Alberto E. Rodriguez/Getty Images Entertainment/Getty Images
Sean Lowe & Catherine Giudici Reveal Their Son Is In The Pediatric ICU
It's never easy when your child is sick. Logistically, caring for an ill child can be unpleasant for anyone. But as a parent, you just want to take all of their pain and discomfort and absorb it yourself — because watching your little one suffer is no fun at all. When things take a turn for the worse and a child needs to be hospitalized for an illness, it can be downright agonizing. And unfortunately, one celebrity couple is experiencing just this right now. That's because Sean Lowe and Catherine Giudici of The Bachelor revealed their son is in the pediatric ICU.
On Saturday, Nov. 3, Lowe — who previously starred in The Bachelor — shared with his Instagram followers that his 5-month-old son has been hospitalized due to breathing complications from bronchiolitis, Us Weekly reported. "Long story short — we took our little dude to the pediatrician yesterday for a bad cough he developed and ended up in the pediatric ICU," Lowe wrote alongside a photo of his youngest son in a hospital bed hooked up to various wires, with mama Catherine by his side. "We're still here and probably will be for a couple more days. Isaiah's got bronchiolitis and his little body is having a tough time getting enough oxygen. He's not having the best time but the doctors and nurses have been great and we're just super thankful we took him to the doctor when we did. We're confident he'll be just fine but prayers are always welcome."
Naturally, Lowe's Instagram followers have since offered words of encouragement — and prayer — to the father of two during this scary time. One Instagram user wrote, "Oh my goodness how scary!! Prayers for your little guy... and mama and daddy🙏🙏🙏."
A fellow parent commented, "There is nothing scarier in the world. Our little boy spent some time in the hospital with the same exact symptoms. Awful, but it's better than being home. He's in capable hands and you can find a little peace in that."
Another follower wrote, "Praying for you and your family and your beautiful Isaiah🙏🙏🙏."
Yet another Instagram user commented, "So hard having a sick baby... prayers for you all and quick healing for your sweet boy 🙏🙏🙏."
Lowe and Giudici first met on the 17th season of The Bachelor, according to E! Online. They got engaged on the season finale in 2013, and then married during a televised wedding in 2014. In 2016, they welcomed their first child, Samuel. As Today reported, the couple welcomed their second child, Isaiah, on May 18 of this year. "Meet my boy Isaiah Hendrix. Thank you Lord," Sean wrote on Instagram, along with a photo of himself holding his brand new baby boy.
I remember when my little guy was hospitalized for croup when he was 2 and I was heavily pregnant with his little sister. Although he didn't end up in the pediatric ICU like Lowe and Giudici's son, we did spend a couple of nights admitted to the hospital. (With my big-bellied self curled up next to my son in the hospital bed.) After some breathing treatments and steroid shots, he was released and eventually stopped that horrible cough. But it was still pretty disconcerting watching my normally rambunctious son reduced to a sluggish shell of himself as I stood by helplessly.
So I'm definitely sending positive vibes to little Isaiah as he continues to fight this nasty illness — and to Sean Lowe and Catherine Giudici. Because I'm pretty sure they'd do about anything right now to trade places with their sick baby boy.