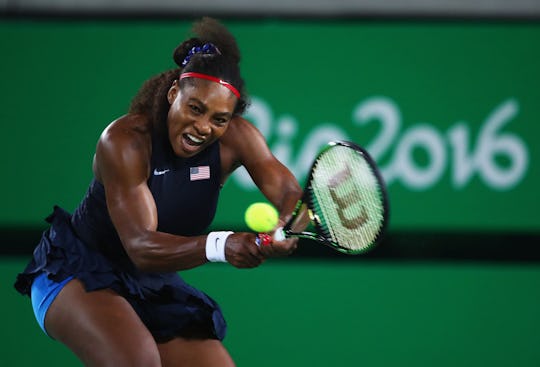 Clive Brunskill/Getty Images Sport/Getty Images
Here's How Serena Williams Has Managed To Spend Every Single Day With Her Baby
It makes sense that someone as wildly successful as Serena Williams would be good at time management — but apparently she's Olympic-level good at it. In a tweet on Wednesday, tennis champ Serena Williams revealed that she has spent every single day with her daughter, Olympia, since she was born.
"319 days since I gave birth to this amazing baby @OlympiaOhanian," Williams tweeted alongside a photo of Olympia leaning on her mama's chest. "I've spent 319 of those days with her. I'm so fortunate."
It makes sense that Williams has made sure to carve out time every day to be with her baby girl considering a comment she told Vogue in January. "We're not spending a day apart until she's eighteen," Serena told the magazine, though she was "half-joking." Well, it seems like she has kept that promise so far!
Williams gave birth to Alexis Olympia Ohanian Jr., also known as Olympia, on Sept. 1, 2017. Due to complications after giving birth, Williams and her daughter had to stay in the hospital for about a week. In her January Vogue interview, Williams shared that she had to deliver Olympia via emergency C-section. The following day, she had a pulmonary embolism (a blockage in the lungs caused by blood clots, according to the Mayo Clinic). Due to coughing from the pulmonary embolism, her C-section scar opened up, meaning she needed another surgery. During that surgery, doctors discovered a hematoma in her abdomen, which she needed yet another surgery for. And then after such a traumatic first week as a mother, Williams spent the next six weeks pretty much bedridden while she recuperated — the upside of which was that she was home with her baby every day.
After she had mostly healed, Williams returned to tennis in March at the BNP Paribas Open, which she was eliminated from after losing a match to her sister, Venus Williams (Aunt Venus, if you're asking Olympia), the New York Times reported. Then in May, Williams won her first Grand Slam match since becoming a mother, at the French Open, Sports Illustrated reported. And last week, Williams competed at Wimbledon in London, where she lost to Germany's Angelique Kerber, CNN reported. Despite her defeat, Williams was happy that she did her best, and she dedicated the match to fellow moms.
"To all the moms out there, you know, I was playing out there for you today and I tried," Williams said in an emotional post-game interview that Wimbledon shared on Twitter. "I look forward to just continuing to be back out here and do what I do best."
Williams also opened up how she balances mommy time with tennis time in a press conference after the match, CNN reported. She told reporters:
My priority is my baby. You know, just being with her and doing things with her and spending time with her, it's totally my priority. But it's weird, I set my schedule so I have time. Like I train in the morning and I spend the rest of the day with her, so I don't get to be with her the full day but a pretty good chunk out of the day.
She also took to Twitter after the match to encourage each and every mom — both stay-at-home and working — that they can achieve their goals, too. She tweeted:
These past 2 weeks was a sound for all moms stay home and working you can do it you really can! I'm not any better or diff than any of you all. Your support has ment so much to me. Let's keep making noise everyday in everything we do.
All that being said, it's now apparent that Williams has brought Olympia along with her to every city she has competed in since giving birth. And sure, Serena Williams obviously has more funds than many, which makes that all possible. But what's especially awesome is that she's using her platform as a tennis star to inspire fellow mothers.