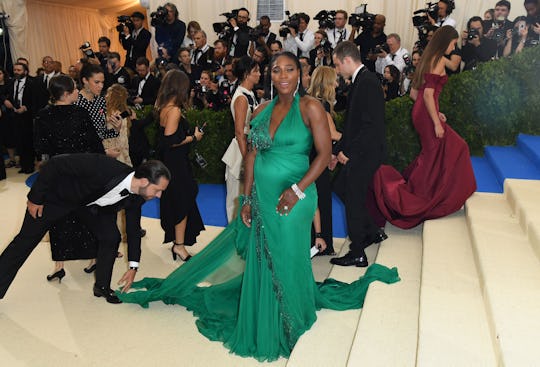 ANGELA WEISS/AFP/Getty Images
Serena Williams' Fear About Parenting Is Relatable AF
Not every woman feels 100 percent certain about having kids, even after they have them. Which is exactly why it's so refreshing to hear that Serena Williams is worried about this whole parenting thing and that she won't be a "baby person" as she waits for her first child to arrive. Because, really, who among us hasn't thought that at some point — parents-to-be or not?
Williams, and her fiancé Alexis Ohanian, are expecting their first child in just a few months. She recently told Vogue in her cover story this month that although she's excited to be a mom, she's nervous:
The biggest thing is that I don't really think I'm a baby person. Not yet. That's something I have to work on. I'm so used to me-me-me, taking care of my health, my body, my career. I always ask, "Am I going to be good enough?"
That's actually way more common than some may think. When most women speak publicly about their pregnancies, they tend to focus on the "magic" of the experience and how they've always wanted to be mothers and can't imagine anything else. Although those women are just being honest about their own experiences, it's just as common for women to be one big ball of self-conscious nerves before they have their baby.
For example, Tamar Gur, M.D., Ph.D., a women's health expert and reproductive psychiatrist at the Ohio State University Wexner Medical Center, told SELF that she's this happening more and more with her patients who have waited to have kids and have super successful careers — much like Williams. Gur said, "There's this concern that 'I've spent so long finding myself that I might not be prepared for this transition to motherhood.' But being aware of this concern is half the battle."
And why shouldn't a woman be nervous? It's a huge change and a huge responsibility. Even the most prepared parents-to-be go through rough times and moments of self-doubt. In addition to be being crazy uncomfortable.
Williams posted an image from her badass and beautiful Vogue cover shoot on Instagram. The tennis champion looks like a goddess but there was a lot more going on that day. She captioned the picture:
I was so energetic that day but then I remember being totally exhausted and needed to take a break for an hour. I was still trying to understand this whole pregnancy process. Nowadays I have no ankles or toes and my fingers resemble sausages but it's moments like this that ... make[s] everything worthwhile.
As much as it's nice to hear celebs share their pregnancy and motherhood experiences, it helps when there's a little balance. Pregnancy is not just one specific thing and it's different for everyone. Though if they're being honest, a lot more moms probably feel the same way about becoming a mother. Sometimes it's just nice to hear another person admit it first.