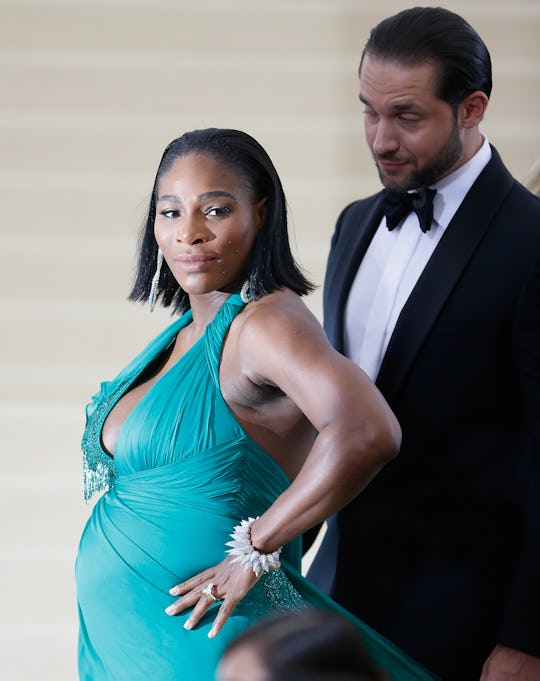 John Lamparski/Getty Images Entertainment/Getty Images
Serena Williams' Snapchat Of Her Baby Class Will Make You Even More Obsessed With Alexis Ohanian
In addition to being one of the best athletes to ever walk the planet, tennis superstar Serena Williams is crushing the game when it comes to preparing for the imminent arrival of her first child with fiancé Alexis Ohanian. As the cofounder of Reddit and all-around tech guru, though, it appears that Ohanian himself has a little more work to do. Over the weekend, Williams documented the couple's latest foray into learning all they can about parenthood, complete with her triumph and Ohanian's adorable fluke. In fact, it's safe to say that Serena Williams' Snapchat of her baby class will make you even more obsessed with Alexis Ohanian.
Williams and Ohanian, who announced that they were expecting back in April, attended what Williams referred to on Snapchat as "Baby class 101" to learn the ancient art of swaddling and other essential parenting skills, like CPR. In the short clip from the day that she later posted to Snapchat, Williams showed that she is (unsurprisingly) a natural. "Good swaddling, Serena!" she says as she trains the camera on her neatly wrapped doll. Ohanian, unfortunately, did not earn the same accolades. "Look at this student," she says when she checks out Ohanian's doll, whose legs are jutted up in a rather unswaddled-looking position. "Oh, what happened?"
"I can't help it," Ohanian answers, before scooping up the doll and handling it like it's a football. Williams jokes back: "Sir, that's not how you carry the baby."
Ohanian cofounded Reddit when he was just 22, was included in the Forbes "30 Under 30" list in technology, is part of the so-called "Internet Defense League," and is a bestselling author. Clearly, he's a pretty smart dude with all the capacity in the world to learn how to swaddle and otherwise care for his soon-to-be infant. But not everything can come easy to the guy — and he certainly knows when to to ask for help. In addition to taking the baby class alongside Williams, Ohanian recently turned to the users of Reddit itself to seek out childrearing advice, as he told New York Magazine's The Cut:
The most obvious thing to do is to seek out advice. That's a pretty simple thing that I think most people do. What's been extra illuminating is subscribing to a number of these communities on Reddit to get advice, guidance, and feedback from parents — none of whom I actually know.
Williams has crowdsourced some info, too. In July, she asked her Twitter followers for tips for turning over at night, because her big pregnant belly was making it difficult. And it all just goes to show that Williams and Ohanian are dedicated to being the best parents they can be. Most importantly, they aren't afraid of putting in the time to learn new skills (and risking failing a little at first) to get there.