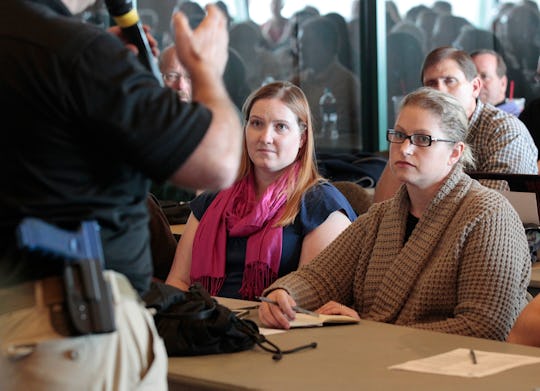 George Frey/Getty Images News/Getty Images
We Asked Teachers How They'd Feel About Being Armed & Their Answers Are Eye-Opening
It's been a week since the mass shooting Marjory Stoneman Douglas High School in Parkland, Florida, where 17 students and teachers lost their lives. And in that week, a national debate on gun control and gun violence prevention has ensued. From banning assault weapons to providing weapons to teachers, everyone seems to have an opinion on how to prevent these tragedies from happening. But should teachers carry guns? I asked teachers to break down the problem with "arming educators," as it has been suggested more than once and by some of the most powerful people in government. People who don't already have the awesome responsibility of educating our children need to understand what's being purposed when people suggest we give educators weapons.
During the Feb. 21 listening session between President Donald Trump and Parkland, Columbine, and Sandy Hook students, teachers, and parents, the president said the idea of arming teachers and school staff is something they're "very strongly" considering. CNN reports that while Trump promises his administration will "look strongly into gun purchase ages," as well as the "mental health aspect," he also believes arming "up to 20 percent of teachers" is the answer to ending school shootings. But what do teachers think?
Politico reports that the majority of educators are vehemently opposed to the idea. While some lawmakers across the nation have fought to lessen firearm restrictions in K-12 schools and allow concealed weapons to be carried by trained staff, there are many who believe adding guns to a teacher's already overwhelming list of responsibilities is too much to ask. The National Association of School Resource Officers agrees, and reports that arming teachers will only add to the increase of gun violence, not lessen it.
So with that in mind, here's why arming our underpaid, overworked teachers could prove to be a mistake of our own doing, according to teachers themselves.