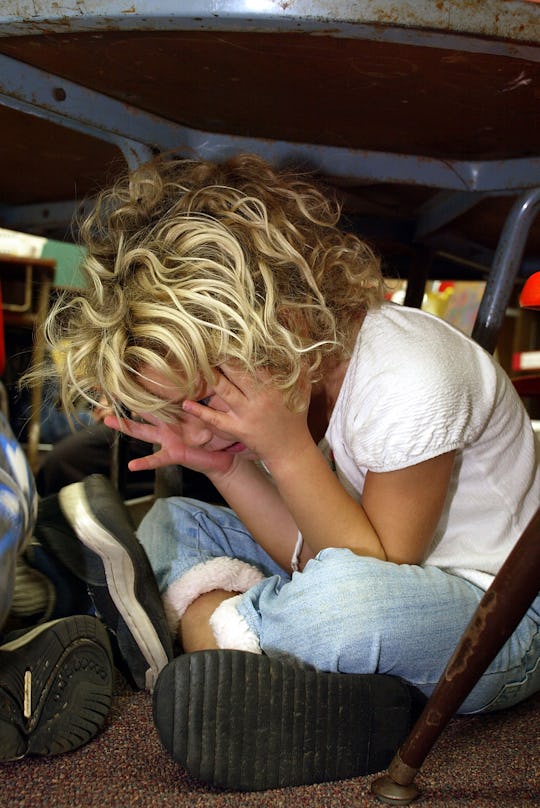 Phil Mislinski/Getty Images News/Getty Images
19 Elementary School Students Describe Their Terrifying Lockdown Drills
At my kids' school it's a "Code Red." The principal makes an announcement, the teachers close the doors and shut off the lights, and the kids quietly sit on the floor up against the wall. When I asked my kids why these drills were necessary only my oldest, who's 11, understood. I don't want my kids to know about school shootings, but how else do we keep them safe? And honestly, they already know. They've grown up with school shootings, and that's never more obvious than when I asked elementary school students to describe lockdown drills.
Like my youngest kids, some kids have no idea what these drills are for. My 8-year-old daughter honestly thought they were fire drills. She didn't know what they were doing, or why, which makes me both terrified and glad that she's not terrified. Plus, having to explain to a third grader that bad people might want to hurt kids at her school was heartbreaking. She asked me, "You mean a murderer will come in and tries to kill us?" and I didn't know how to respond. Should I tell her that the person in question might not look like a murderer, but like another kid? Or should I try to put her mind at ease and tell her it's not likely to happen? I have no freaking clue.
Other kids knew exactly what they are for, and it's causing them some serious fear and anxiety. Kids shouldn't have to worry about being killed at school. They just shouldn't. This shouldn't be "normal" and this shouldn't be accepted as some unavoidable reality. A few kids had some good questions about the drills themselves, too. They asked, "Why would someone hurt kids?" and, "What happens to the teachers if they can't hide?" Or, as my 11-year-old community organizer-in-training asked, "Are there better places to hide? I think we can still be seen?" She's in sixth grade. It made me want to vomit, cry, and start homeschooling my children. I'm afraid to send my kids to school.
If you want to know what kids think about lockdown drills and school shootings, read on for some real answers from kids way too young to have to know about them: