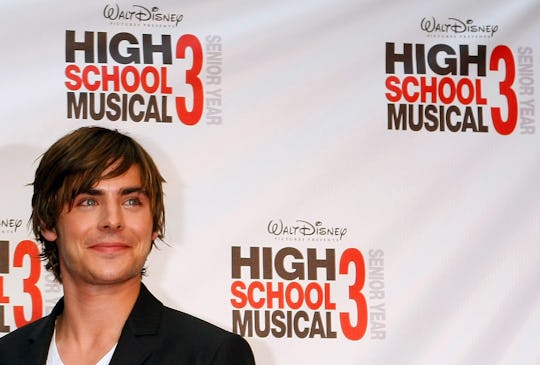 Lucas Dawson/Getty Images Entertainment/Getty Images
Should Your Kids Watch 'High School Musical 4'? The Series Contains Plenty Of Important Life Lessons
Do you remember when Zac Efron was Troy, the confused singer/dancer/basketball star from the Disney original High School Musical? Me too. I came across the movie accidentally once and then watched it about 50 times. I stopped for the not-so-subtle Grease undertones (Troy and Gabriella were basically Danny and Sandy from Grease and we all know it), I stayed for my cougar crush on Troy. And now it turns out we're getting another incarnation of the High School Musical franchise. I'll be watching, I think, but what about the kids? Should your kids watch High School Musical 4?
Well let me hit you with the bad news first: The original cast won't be back. That's right, no Zac Efron, no Vanessa Hudgens, no Ashley Tisdale (although there have been a few rumors that we might get a Sharpay cameo, praise be to the network gods), and no Corbin Blue. But I actually think that might be a good thing. The cast for the original Disney channel breakout movie would be a little beyond their high school years. And if the movie is being made for parents to watch with their kids (the demographic that would make the most sense), wouldn't we want to find a new generation of Wildcats to cheer on? Well, some are saying... not so much.
I don't know, guys. I think we should give the new cast a chance. I actually think the High School Musical franchise is super fun to watch with kids. Especially the tweens in your life, if you've got 'em. At that stage they're old enough to understand the themes but not quite old enough to roll their eyes, it's perfect.
After all, you can only watch Frozen so many times before you really have to just... let it go. And High School Musical 4, if it's anything like the other three movies, should be a good, clean time — and it will probably teach them something as well.
Just think about the concept behind the original movie, for instance. A boy who plays sports but secretly wants to sing and dance. Trusting people to accept you for who you are. Being true to your authentic self. This stuff is, like, Oprah deep. The whole movie is one big 'A-ha' moment set to catchy tunes, reminding us what happens when we stick to the status quo (you guys are going to love/hate me for putting this song back in your head where it will now play on repeat for eternity).
And how much do you love the basketball player who just wants to bake the perfect creme brulee? It's not the worst thing in the world for kids to think they can be whomever they want, right? After a look at the new characters for High School Musical 4 — a bad-ass girl who plays soccer on an all-boys team and a tough guy who also teaches little girls to dance in his studio (dibs) to name a few — I think a new generation of kids should definitely embrace the silly, fun, strange, colorful, liberating world of High School Musical with mom and dad once it finally debuts. Go Wildcats!