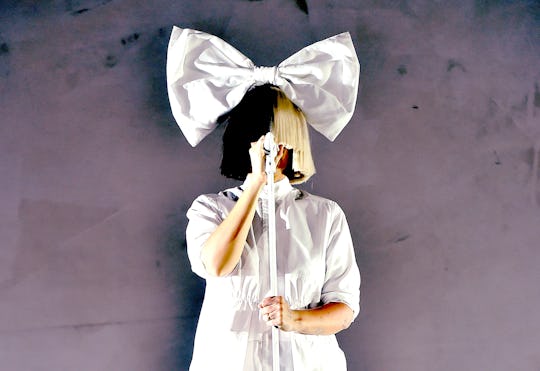 Kevin Winter/Getty Images Entertainment/Getty Images
Sia Was Snubbed For A 2017 Grammy Nomination, But Only In The Main Categories
When you have just four main categories for the 2016 Grammys, only so many artists can get their recognition with nominations. But when Sia was snubbed for a 2017 Grammy nomination, it came as a shock, mostly because her album, This Is Acting, released a few different singles, namely "Cheap Thrills," that got so much radio play, you had to assume that Sia would be nominated for at least one of the four main Grammy categories.
Of the four most sought after Grammy Award categories, including Record Of The Year, Album Of The Year, Song Of The Year, and Best New Artist, Sia was snubbed in each of them. But there is a light at the end of the tunnel, because while she may have missed out on a nomination in one of the four main categories, Sia was nominated for 2017 Grammy Awards in a few other sections.
In the Best Pop Duo/Group Performance category, Sia was nominated for "Cheap Thrills" and This Is Acting was nominated for the Best Pop Vocal Album, so she's not necessarily leaving the 2017 Grammys empty-handed. In fact, you might even say that being nominated for Grammys in categories that aren't competing with huge names of the industry bodes well for her taking home Grammys in the other categories this year.
Sia was also nominated in the Best Song Written For Visual Media category for co-writing the song "Try Anything" for the 2016 movie Zootopia. The January 2016 release of Sia's This Is Acting album marked her seventh studio album throughout the course of almost 10 years. Its second single, "Cheap Thrills," was her first song to reach number one on the Billboard Hot 100 list, so it's not much a surprise that things are finally coming up Sia for the artist.
This Is Acting reached gold status in both Australia and the United Kingdom and features writing by Kanye West and Adele on a couple of the tracks. Sia might have been snubbed for a 2017 Grammy nomination in one of the main categories, but that doesn't mean that she won't take home an award in one of the others. Fingers crossed she gets the love that she deserves.