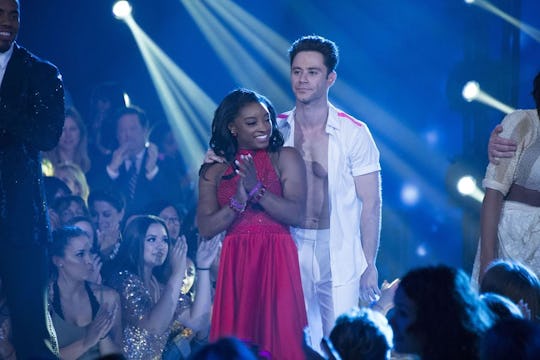 Eric McCandless/ABC
Simone Biles' "Skyscraper" Dance On 'DWTS' Reached Amazing Heights
Simone Biles was increasingly confident and strong as a dancer this season on Dancing With the Stars and as each week passed, she became someone stronger on the ballroom floor. So when Simone Biles danced to Demi Lovato's "Skyscraper" on DWTS, it took her talent to a whole new level in a beautiful and moving routine that paid tribute to her Olympic career. The package that was shown before Biles and her partner Sasha Farber's performance was all about Biles' road to the Olympics and how she became a pro at such a young age and all that she sacrificed to reach her Olympic goals.
Adopted at a young age by her grandparents, Biles decided as a teenager to really give serious gymnastics a chance and try to reach her goals and get to the Olympics. In order to do so, she recalled giving up friends and the things other kids her age were able to do in order to get what she wanted. But in the end, it all paid off for her. At the 2016 Summer Olympics, Biles ended up with four gold medals and one bronze and because of that, her grandpa said it was "a humbling experience" to see her win. And Biles' dance to "Skyscraper" on DWTS was the perfect way to honor how far she's come.
Not surprisingly, Biles earned perfect scores for her performance, which even included a balance beam to symbolize her one personal hiccup from the 2016 Summer Olympics that earned her a bronze medal instead of a fifth gold. Not a huge flub to most of us, but her own regret from her time at the Olympics and since the routine was meant to pay tribute to that time in her life, it only made sense for the balance beam to be involved in the set too.
At just 20 years old, Biles has already accomplished so much and competing on Season 24 of DWTS can now be added to that list. During her routine with Farber for "Skyscraper," the movements were so fluid and precise that the whole thing came together in a beautiful harmony that worked for what it obviously meant to her.
Biles may not be making it to the finale on DWTS, but with perfect scores for the night for both dances and an emotional and moving routine for "Skyscraper," it was an honorable way to go out.