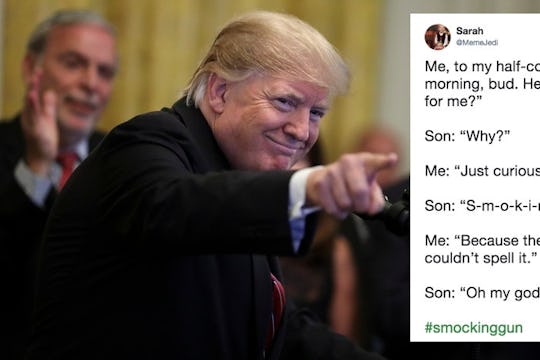 Pool/Getty Images News/Getty Images
The Internet Had A Field Day With Trump's "Smocking Gun" Tweet
At this point, it feels like President Donald Trump might be putting typos in his tweets on purpose. Like on Monday morning, when Trump tweeted about a "Smocking Gun" — not once, but twice in one tweet — and the memes and funny tweets that it inspired will hopefully bring a chuckle to this distressing reality.
At 6:46 a.m. on Monday, Trump tweeted a quote that he attributed to Fox News. "Democrats can't find a Smocking Gun tying the Trump campaign to Russia after James Comey's testimony. No Smocking Gun...No Collusion," Trump quoted. According to The Hill, Trump is referring to a Fox News host who said Democrats "can't find a smoking gun tying the Trump campaign to Russia." A smoking gun is a term for a piece of conclusive, definitive evidence. But in Trump's hastily-written tweet, he spelled smoking like "Smocking" (and with an inexplicable capital S, too).
"That's because there was NO COLLUSION. So now the Dems go to a simple private transaction, wrongly call it a campaign contribution..." Trump continued on Twitter. "...which it was not (but even if it was, it is only a CIVIL CASE, like Obama's - but it was done correctly by a lawyer and there would not even be a fine. Lawyer's liability if he made a mistake, not me). Cohen just trying to get his sentence reduced. WITCH HUNT!" If Fox News says it, then it must be true!
Pretty much immediately, people started making fun of Trump's typo on Twitter. Some people expressed that in moments like these, the president's Twitter account really seems like a parody account.
Others made references to Trump's most popular typo of all time: covfefe.
Others noted the irony of Trump misspelling a figure of speech about guns, considering his support of the National Rifle Association.
Others were simply in shock.
Well, that's one justification for Trump's misspelling...
And someone even theorized that a "Smocking Gun" was actually Tim Gunn from Project Runway. 10/10 wordplay.
Others made fun of Trump's typo by incorporating it into variations of popular Twitter memes.
Others meme'd Trump and his smocking gun by turning him into characters.
And this classically meme-able photo of Hillary Clinton and Barack Obama was put to good use.
Even Monica Lewinsky chimed in.
As did Roxane Gay.
And so did Zach Braff, who reminded people that Trump made this typo twice in one tweet and previously...
In early August of this year, Trump also used the phrase "smocking gun" (this time without capitalizing the first letters of each word). The tweet was a quote made on Fox News by Marc Thiessen, a Washington Post columnist. And like his most recent "smocking" tweet, the one from August was also about Russian collusion.
Trump's tweets on Monday refer to Michael Cohen, his former lawyer, who pleaded guilty in August to "committing campaign finance violations and financial crimes" during the 2016 election, according to The New York Times. Prosecutors will sentence Cohen on Wednesday, The New York Times noted.
It will certainly be interesting to see what Trump tweets about Cohen's sentencing later this week. Who knows, maybe prosecutors will discover a smocking gun...