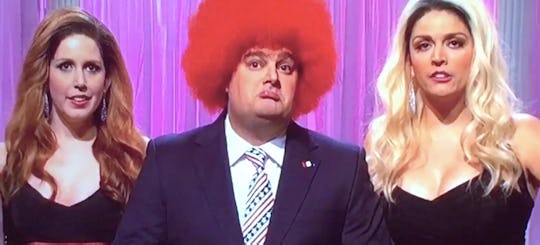 'SNL' Made A Clinton & Lewinsky Joke, And We Don't Think Hillary Is Laughing
Shots fired! In a mostly uneventful and apolitical episode of Saturday Night Live, hosted by Republican hopeful Donald Trump, the show may have just lost one of their BFFs, Hillary Clinton. During the very last sketch, there was a dated (and to some, very offensive) Bill Clinton joke.
The episode itself featured Trump very sparingly, most likely thanks to the equal time rule, which specifies that networks must give opposing candidates the opportunity to appear for the same amount of time that Trump did, should they request it. Or maybe it's just because they've realized that Trump is not an actor, not funny, and therefore should not be heavily featured in a sketch comedy show. Who's to say?
The show was closed out by Vanessa Bayer and Cecily Strong in their recurring roles as former porn stars who shoot terrible amateur commercials on spec in order to get free merchandise from brands like Manolo Blahnik, Bvlgari, and Lamborghini. This time around, the porn stars were shooting an unsolicited campaign ad for Donald Trump.
It was only at the very end of the sketch that they revealed their motive: "We're trying to do this ad for Donald Tramp [sic] so he lets us live in his hotels," says Brayer's character, Brecky. Strong's character interjects, "Yeah, maybe visit the White House. I haven't been there since the nineties." And to add insult to injury, Bayer's character added one more remark. "Oh, yeah, I hit my head on the desk."
Cold blooded. Not only is this bound to alienate Hillary Clinton, a longtime friend of SNL, but it's a slap in the face to Monica Lewinsky, who, 17 years after her affair with Clinton, is likely wondering, "Can I just live?" So has SNL just screwed themselves out of one of their greatest political alliances? Is Kate McKinnon fielding angry texts from Hillary at this very minute? Only time will tell.
Image: NBC Universal