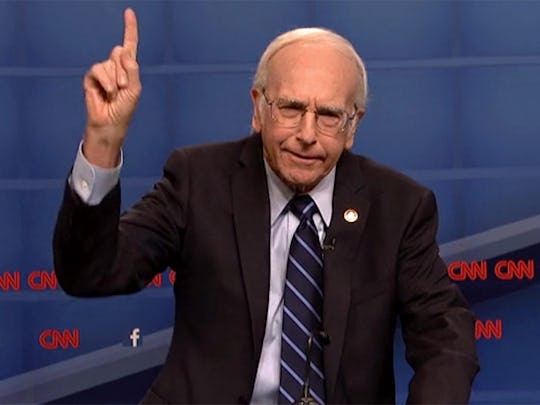 NBC
'SNL' Political Family Feud Brings Back Larry David As Bernie Sanders And It Was Perfect
On Saturday Night Live, there are typically a few choice characters or celebrity portrayals that can do no wrong, and when Larry David premiered his Bernie Sanders last year, it became another impersonation that became legendary. On the season premiere, David came back as Bernie for the SNL Political Family Feud sketch, making for a pleasantly surprising appearance near the end of the presidential race. It's gotten to the point where fans are having a hard time distinguishing David and Bernie apart on SNL. Like, for real. It's scary how well David has gotten at his Sanders impersonation on SNL that it's not even funny anymore. Except for when he opens his mouth and then you remember how funny it actually is and why we need him to be on every other episode of SNL.
David introduced his take on Sanders last year when the former presidential candidate was still in the running and a Democratic hopeful. Since then, we've seen David portray him on SNL multiple times, as he's returned for the sole purpose of bringing out his impersonation again. On the season premiere, we got to see the SNL Political Family Feud sketch, featuring one team of Donald Trump supporters and family members and a Hillary Clinton side of the same. And among her supporters on the Clinton team was David as Sanders.
David brought back his Sanders to give us the grumpy old man that is probably somehow a part of David in real life, making the part of his obvious doppelganger easy to play. He gave all kinds of snark that grudgingly agreed with having Clinton as the next president. When it was his turn to speak as they did the introductions on the SNL Political Family Feud, David compared to Clinton to prune juice with, "Hillary Clinton is the prune juice of this election. She might not seem that appetizing, but if you don't take her now, you're gonna be clogged with crap for a very long time."
Now, I don't know if that's really how Sanders or his apparent alter ego David feels about Clinton as the next president, but it's always a treat when David shows up on SNL, unannounced, to play Sanders. Can someone please get him a contract now that entails his appearance at least five times per season?