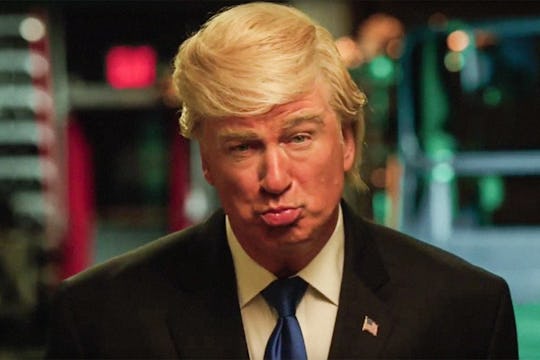 NBC
'SNL' Tackled The Donald Trump Tape Scandal And Alec Baldwin Came Back As Trump
On Saturday night's episode, the Saturday Night Live cold open once again featured Donald Trump, but this time it was during the vice presidential debate. And when SNL took on the Donald Trump tape scandal, Alec Baldwin was brought back to play the presidential candidate and attempt an apology for the now infamous recording that was released of Trump's comments about women that he made in 2005. It was no secret that the writers of SNL were working overtime to come up with the perfect way to fit in the Trump tape scandal, and they were able to do it within the first five minutes by asking Baldwin's Trump about the scandal and what he would say to women right now if he could apologize.
In the skit, Trump could barely make out the word and went on to chalk up the 2005 tape of him to a time "Back when I was a young, childish 59-year-old man." The latest Trump scandal involves a recently released video of the presidential candidate speaking a demeaning way about women when talking to Billy Bush. His advice in regards to getting through to women was to "Grab them by the p*ssy," which has obviously sparked all kinds of controversy, which is plenty warranted. So it was only natural for SNL to cover the Trump tape scandal now, before it's forgotten. But really, who is going to forget?
After his non-apology, Baldwin's Trump on SNL was asked what he would say to women voters who'd seen the Trump tape, and he gave the kind of answer we could only hope for in a political cold open on SNL. Somehow making things even more awkward and plenty worse, he said, "If you give me a chance, I promise I could do a whole lot more than just grab it. I can also bop it, twist it, and pull it." He ended by giving a seemingly heartfelt shout out to the people of Florida currently affected by Hurricane Matthew, but when he thought his mic was turned off, he gave another moment that was very Trump-like.
Baldwin's Trump stood up and dropped the p-word again with: "I wish I was that hurricane, tearing through all of that hot Miami p*ssy... I would just destroy it." SNL might have taken Trump's tap scandal a huge step further in Saturday night's cold open, but it was plenty warranted, given the sexist and just terrible comments Trump made in real life, which were caught on tape and therefore pretty hard to deny at this point.