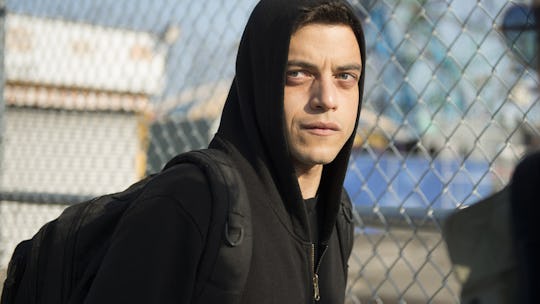 'SNL's 'Mr. Robot' Parody Gave Leslie Jones A Chance To Find Her Website Hacker
USA's drama Mr. Robot is known for its main character Elliot's anti-social interactions and monotone voice-overs, and SNL's Mr. Robot parody sketch was too accurate in its spoof of the hacker drama. In the sketch, Leslie Jones was on a mission to find out who'd hacked her computer and released her nude photos, just as it had been done to her in real life. Only in this case, she was seeking the help of Mr. Robot himself, Elliot (Pete Davidson) and obviously a certain amount of hilarity ensued.
In SNL's Mr. Robot parody sketch, Jones finds Elliot in a library, hood up, hovered over his laptop, and asks for his help in figuring how who'd hacked her computer. So naturally, they reconvene in the Mr. Robot boardwalk arcade headquarters, where she brings out her laptop that is of ancient proportions, hopeful that Elliot can find out "Who got all [her] nasties." Then, she makes sure that he knows how to use Windows '95, because of course her weird, first generation laptop is running Windows '95.
While Elliot is working to crack the case for Jones, she's busy playing skee ball in the arcade that is a pretty amazing replica of the actual Mr. Robot set and in the meantime, asks if he can set her up with his dad. If you don't know the show, Elliot is repeatedly visited by the ghost of his father, via his own hallucinations. When he tells Jones that his dad is actually dead, she scoffs, "I ain't afraid of no ghost." Is it possible to love her more?
In real life, Jones did have her personal website hacked this past summer, wherein nude photos and personal information of hers were found and leaked. Apparently, the reported photos of herself, along with photos of her driver's license and passport, were synced up to her iCloud account, which was linked to her personal website. Shortly after the hack, the website was taken down and there was not a confirmation as to whether or not the photos posted were in fact Jones, but the gross invasion of privacy sparked a Twitter hashtag of #IStandWithLeslie.
The SNL Mr. Robot parody sketch ends with the same conclusion as real life, with Jones's iCloud being connected to her website, but the actress pokes fun at herself, giving Elliot her password of 'password.' The SNL Mr. Robot sketch's Elliot also concludes that Jones had inadvertently hacked herself (somehow), giving her a resolution to the mystery and finding a way to find humor in the atrocious violation.