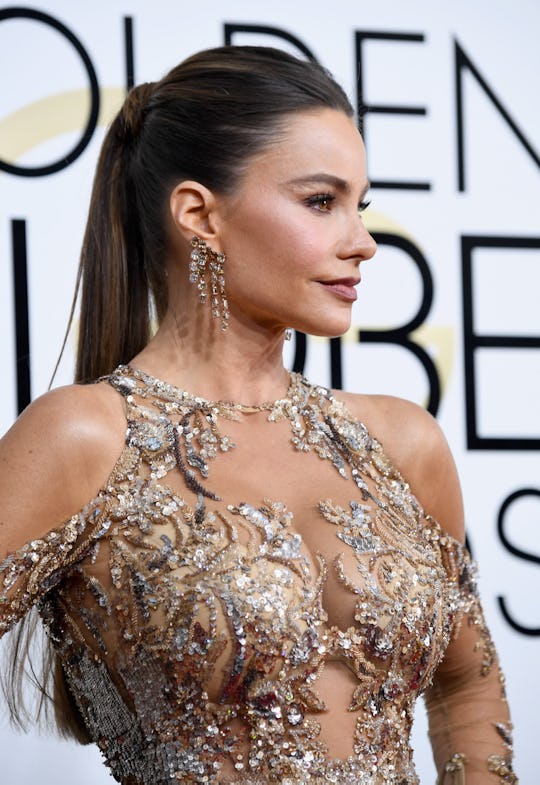 Frazer Harrison/Getty Images Entertainment/Getty Images
Sofia Vergara's Accent Joke Isn't Funny Anymore
Sofia Vergara has been a star on Modern Family for eight seasons now and with each one, she has shined through her cast of equally as funny actors. That's why it was so disappointing to see the actress once again use her accent as the main punchline of a joke when she came out on the stage as a presenter. Bottom line: Sofia Vergara's accent joke at the 2017 Golden Globes wasn't funny, and shows more than ever that it's time to move on from the tired joke at the actress's expense.
At an awards show that is presented by the Hollywood Foreign Press Association, showcasing a joke that pokes fun at the actress's accent is even more uncalled for than usual. Vergara has been a prominent member of the entertainment industry for years and by now, she has more than earned the right to not have to read butt jokes that at the same time make fun of her accent at the Golden Globes. Back in 2012, Vergara told a reporter from TheLatinBug.com that she's grateful to be a Latin actress in Hollywood and that "everybody is used to an accent here and there," and while that may be true, that hasn't really stopped people from making her the butt of the joke because of her accent. And it's really time to move on from that.
The cringe-worthy joke took place when Vergara was introducing the Miss Golden Globe trio, who were also Sylvester Stallone's daughters. But when Vergara was attempting to say "annual tradition," she instead said "anal" and then "anus," which was an obvious shtick to play on her accent. As a comedic actress, Vergara is always quick to effortlessly deliver these "jokes" with ease, but when are they going to finally end? Because really, even though the jokes have been a big part of her role on Modern Family, that doesn't make it OK for every appearance of Vergara to be about her accent.
Vergara, being a comedic actress, doesn't seem to take the jokes too seriously herself and seems to have been able to embrace them in a way, and even joked with Conan O'Brien about her Modern Family co-stars, mainly her on-screen husband Ed O'Neil, trying to imitate her. "He doesn't do it that well, not as good as Julie [Bowen]," she said. "But it's great working with Ed, even though he doesn't know how to do my accent." But even if Vergara isn't taking the accent jokes too seriously at this point, that doesn't make it OK to deal with every single time. Similar to jokes about an actress's physical appearance that come every time she speaks, the accent jokes that Vergara is expected to deliver are just tired at this point.