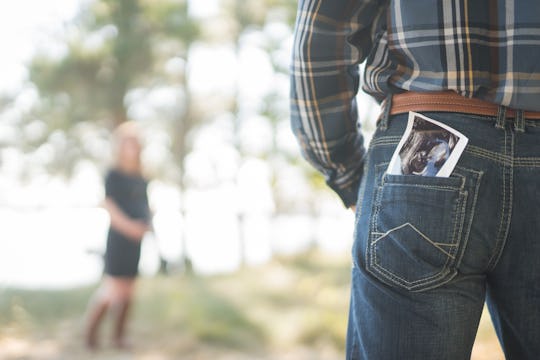 Diana0403/Shutterstock
10 Things You Shouldn't Say To A Soon-To-Be Dad On Father's Day
My nephew and his wife are expecting their first son to be born in September. They are ridiculously excited and overjoyed to be welcoming a little one into the world soon, but with Father's Day around the corner, the question of whether or not my nephew should already be celebrating his fatherhood has reared its ugly little head. Without a doubt, men who are due to have a baby born within the next nine months should most definitely be celebrated on Father's Day, but there are definitely a few things you shouldn't say to a soon-to-be dad on Father's Day.
When you think of the men you know who fill fatherly roles, I'm sure you can think of hundreds of things that they do for the children and moms in their life. Soon-to-be dads are typically already helping expectant moms get everything ready for their baby's arrival. They're building cribs and adding items to registry lists, reading parenting books, giving foot rubs to that sweet pregnant mama, and doing the emotional labor of worrying about all of the expectations that are about to be placed squarely on their shoulders when their baby arrives so very soon.
All of that work deserves to be celebrated even if the soon-to-be dad has yet to experience one sleepless night or diaper change — because we all know that before too long, their life will be an endless loop of early mornings, late nights, and plenty of Peppa Pig. So let's do these expectant dads a favor and give them the credit they deserve and make sure to watch out for these 10 phrases on Father's Day.