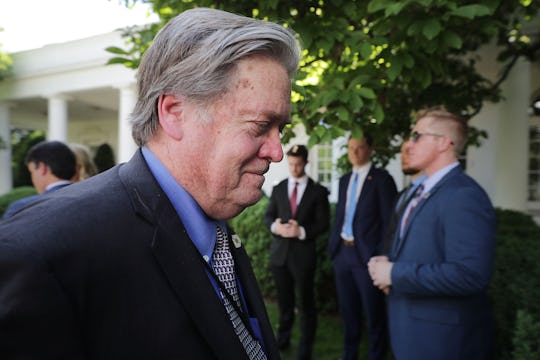 Chip Somodevilla/Getty Images News/Getty Images
"Steve Bannon Out" Memes Show The Internet Has No Chill
On Friday, news broke that President Donald Trump had ousted Steve Bannon from his role as White House chief strategist. The reason behind Trump's decision isn't clear, though that hasn't stop politicos from theorizing. Still, Bannon's departure after a turbulent seven-month career on Capitol Hill has a lot of people rejoicing on social media. Here are some of the best "Steve Bannon Out" memes, because the internet is the gift that keeps on giving.
Bannon's dismissal as Trump's top adviser is not all that surprising to Washington insiders. According to the New York Times, it has been long suspected that Trump would relieve Bannon of his duties, particularly because the former Breitbart editor clashed with almost everyone in the White House. And the chaotic, blood-filled events of the last week seem to be, in part, the tipping point that led to Bannon's departure.
There are conflicting reports, though, over how Bannon was removed. According to ABC News, the embattled White House official resigned from his post earlier this month. But other news reports suggest he was given the boot by the president. Either way, people on social media had a field day with the news, posting snarky memes celebrating Bannon's dismissal.
But how did Bannon get to this point? The theories are far and wide.
First, let's start with the white nationalist rally in Charlottesville, Virginia this past weekend. According to Mother Jones, under Bannon's directon, Breitbart — a far-right conservative outlet — became a mainstream mouthpiece for white nationalists and neo-Nazis, who overtook Charlottesville to protest the removal of a Confederate statue. After the violence that erupted during the hate-filled rally, many critics called for Bannon's termination, believing his white nationalist leanings influenced the president's remarks. In the days following the violent rally, which left one counter-protester dead, Trump blamed "many sides" for the neo-Nazi-driven violence, saying the so-called "alt-left" shared some culpability for what happened.
Then there's Bannon's Mooch-style interview. According toVanity Fair, the former Breitbart editor recently gave a strange and surprising interview to the American Prospect, a progressive magazine, in which he let loose on a whole host of topics. He talked about having a trade war with China and contradicting the president's statements on North Korea. He also called white supremacists — a voter base that helped carry Trump into the White House — "losers" and "a collection of clowns." Last time a White House official gave an off-the-cuff interview, they got canned (just asked Anthony "The Mooch" Scaramucci).
And, to add to the fire, a rumor has spread that Bannon is one of the main White House leakers. At least, that's what Trump suspects, according to the New York Post.
It may take sometime to understand what Bannon's departure means for a sinking White House administration that can't keep it together. And though his exit is very much welcomed, there are still more weeds to pull out from the oval office. In the meantime, though, enjoy the "Steve Bannon out" memes — they're what the internet is made for.