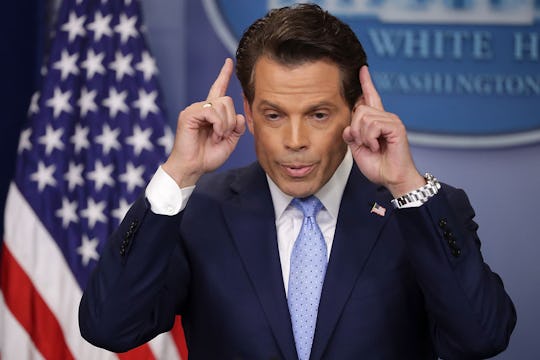 Chip Somodevilla/Getty Images News/Getty Images
Trump Just Removed Anthony Scaramucci After Only 10 Days In His Position
The tenure of President Donald Trump's White House communications director lasted little more than a week, but it was a action-packed, profanity-laced week brimming with threats and outrage. And with the news that the bombastic former Wall Street titan has been removed from his position, the possible answers to the question "Why did Trump remove Anthony Scaramucci?" could be endless. For the time being, though, The New York Times reported Monday that the removal of the so-called, self-styled "Mooch" came at the request of Trump's brand-new Chief of Staff, John F. Kelly, who has reportedly sought to convey to White House staff members that he's in charge.
Soon after news that Scaramucci had been removed from his position broke, the White House released an official statement confirming the Times' reporting. "Mr. Scaramucci felt it was best to give White House Chief of Staff John Kelly a clean slate and the ability to build his own team," it reads in part, according to Politico. "We wish him all the best."
As is seemingly always the case, it's been a tumultuous couple of weeks over at the White House. Former Press Secretary Sean Spicer resigned last Friday reportedly because of Scaramucci's ascent to the role of communications director; a very public castigation from Scaramucci himself preceded the ouster of former chief of staff Reince Priebus a week later.
Considering what a major disruption Scaramucci proved himself to be during his paltry 10 days on the job, it's no real surprise that Kelly reportedly opted to move forward without him. Scaramucci dove into his role by citing an anonymous source, and then revealing the source to be the president himself, while on the air with CNN's Jake Tapper. Scaramucci also feverishly deleted his own past tweets criticizing then-candidate Trump, and also told Politico that he planned to fire an assistant press secretary before informing the assistant press secretary himself. And he publicly accused Priebus of leaking Scaramucci's (publicly available) financial disclosure form to the press in a since-deleted tweet.
But his truly unbelievable moment came when he called up The New Yorker's Ryan Lizza last week to bash Priebus and Trump's chief strategist Steve Bannon in the crassest of terms. In addition to spewing foul language and referring to himself in the third person, Scaramucci uttered the choice phrase "They'll all be fired by me" of his new staff, according to The New Yorker interview.
Instead, Scaramucci was the one who found himself out of a job Monday. But that may not be the case for long: The Times reported that Trump would like to install him in a "less high profile" White House position. But it's a bit of a wonder that Trump would consider keeping Scaramucci on at all, as Trump famously hates when his people get more publicity that he does. With his whirlwind 10 days as communications director — which packed enough controversy for 10 years — the Mooch certainly gobbled enough headlines to rival the president.