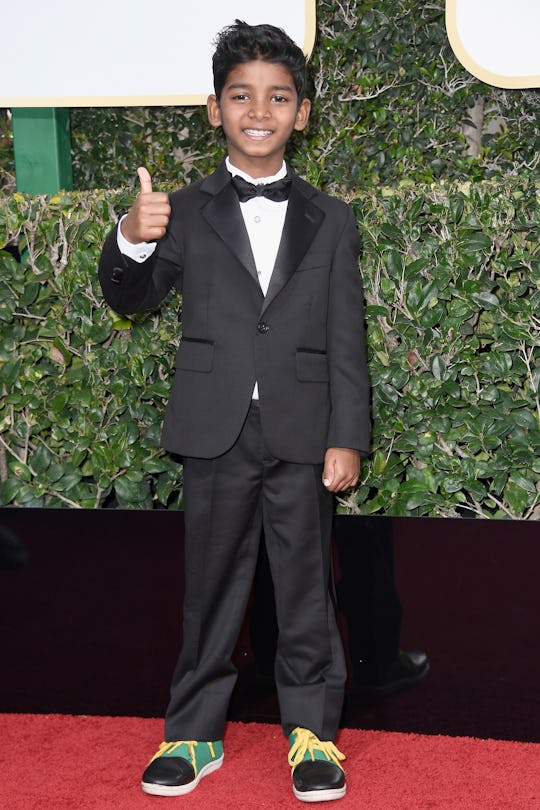 Frazer Harrison/Getty Images Entertainment/Getty Images
Sunny Pawer Just Won The Golden Globes
Although there's a hefty list of worthwhile award shows, the Golden Globe Awards is always a fan favorite because, well, it just feels a little more relaxed. Maybe (read: probably) it's because there's alcohol, or maybe it's just because the awards for movies and TV shows are combined. Whatever the reason, there's always fun moments to be had and, this year, it was young actor Sunny Pawar who stole the Golden Globes.
The 8-year-old actor got his breakout role as Young Saroo in the moving film Lion, which is nominated for the Best Motion Picture - Drama Golden Globe this year. The young star appeared on stage at the award show alongside his costar Dev Patel, who plays the adult version of his character. While Patel is always nice to look at, it was Pawar who really caught everyone's attention. The cute boy actually looked a bit like a mini-Patel as he stood beside the actor. Pawar was so short that Patel had to pick him up so he could reach the mike making the moment that much cuter.
Although the youngster isn't nominated for a Golden Globe this year, he definitely gets an honorable mention for cutest star at the show.
Before Pawar even made it to the stage, however, viewers were already fans of his cuteness. One viewer even noticed how Pawar now has a signature move for the red carpet. The young actor gives photographers a great big thumbs up before heading into every event.
Fans are already comparing Pawar to Room star Jacob Tremblay, who was the epic cutie during last year's award season. Some are even hoping the two young actors will team up soon and become besties. Maybe they could even do a film together. Honestly, I'd watch it.
Pawar is more than just his looks though. The actor is absolutely phenomenal in Lion and it's definitely a must see film. His work, along with that of Patel and Nicole Kidman, who was also nominated for a Golden Globe this year, is great in the film and if you haven't watched it yet you're seriously missing out.
With the amazing work he did in Lion it's not too surprising Pawar already has another film lined up for this year. Accordingot IMDB, Pawar will appear in Love Sonia, which is due to release in theaters on March 3, and also stars Demi Moore and Freida Pinto.
It's clear Pawar is definitely one to watch and I can't wait to see more of him in the future.