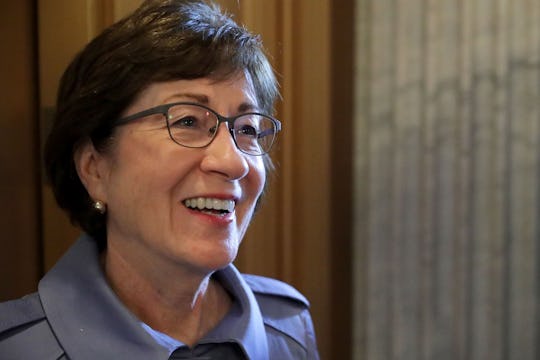 Chip Somodevilla/Getty Images News/Getty Images
Yet Again, Susan Collins Stands Up Against Pressure From Her Male Colleagues
It's official: President Trump can start calling Maine Sen. Susan Collins the "Republican who saved Obamacare." On Tuesday, Republican leaders announced their defeat at their third and potentially final attempt to repeal the Affordable Care Act this year, with a looming deadline on Wednesday for insurance companies to submit their ACA marketplace health plans for next year. For a third time, Susan Collins sided against health care repeal when she announced on Monday she would vote "no" on the Graham-Cassidy bill, aka, Trumpcare 3.0, if it came to a vote. Thankfully, for millions of Americans who benefit every day from the ACA, the disastrous Graham-Cassidy will not have a vote.
During the Senate vote on a "skinny repeal" in July, much of the credit was given to Arizona Sen. John McCain for sounding the death knell on Trumpcare 2.0, as his was the third Republican vote, along with that of Collins and Alaska Sen. Lisa Murkowski, that caused the bill to fail. (Should we really be so shocked that an old white dude got all the credit? Color me completely unsurprised.) In reality, it was Collins who drove the bus against Trumpcare long before McCain hopped onboard by being the sole Republican to publicly come out to say she would be a "no" vote on the Senate version of the American Health Care Act before the bill came to a vote.
Collins's opposition to Graham-Cassidy shows that she is a legislator of integrity, despite the GOP's 11th hour attempts to woo Collins by offering select states more funding: Alaska, Arizona, Kentucky, and of course, Collins's home state of Maine. Each of these states were chosen in a deliberate and obvious attempt to garner (read: buy) senators' votes under the guise of health care reform. Collins, to her credit, cut through all that bullsh*t in a statement at her website about her Graham-Cassidy no vote:
There has been some discussion that the new version of the bill includes additional money for my home state of Maine. The fact is, Maine still loses money under whichever version of the Graham-Cassidy bill we consider because the bills use what could be described as a 'give with one hand, take with the other' distribution model... if Senators can adjust a funding formula over a weekend to help a single state, they could just as easily adjust that formula in the future to hurt that state.
In addition to nope-ing out at the GOP equivalent of a carrot on a stick to lead her to a yes vote, Collins has had to endure the berating of her male colleagues on the Hill. In July, Texas Rep. Blake Farenthold called out Collins, though not by name — "some female senators from the Northeast" — on a radio interview. Farenthold continued, "If it was a guy from south Texas, I might ask him to step outside and settle this Aaron Burr-style."
Just days later, Georgia Rep. Buddy Carter told MSNBC, "Somebody needs to go over there to that Senate and snatch a knot in their a*s." For those unfamiliar with this particularly Southern colloquialism, Carter basically just said he thought someone needed to go and physically assault the only two female senators who opposed the bill at the time — Collins and Murkowski. Carter did not immediately respond to Romper's request for comment. Throughout all of this, Collins has remained steadfast in her opposition at this Senate's attempt to repeal and replace the Affordable Care Act.
That Graham-Cassidy will not get a vote is a huge win for health care advocates. The hastily revised bill — four times over in the past month, no less — couldn't even get a proper score from the Congressional Budget Office, as the office did not have sufficient time to calculate its estimations on just how many millions of Americans would lose their insurance if Graham-Cassidy became law. Collins acknowledged that the preliminary CBO score was one of many deciding factors in her opposition to Graham-Cassidy.
Ultimately, does that mean the GOP-lead fight to repeal Obamacare is over? As with anything in this unpredictable administration, let's cautiously say "for now." As John Cassidy (no relation to Sen. Bill Cassidy, one of the bill's co-sponsors) wrote for The New Yorker, Collins held her ground throughout the GOP onslaught against the Affordable Care Act:
If this really is the end of the effort to repeal Obamacare, a few Republicans of character will have played a key role. And history will recall that Susan Collins was in the vanguard.
Against a pathetic attempt at legislative persuasion and threats of physical violence from GOP colleagues, Collins ultimately refused to tow the party line — and she just may have saved millions of Americans' lives by standing up for what's right — instead of what leans politically Right.