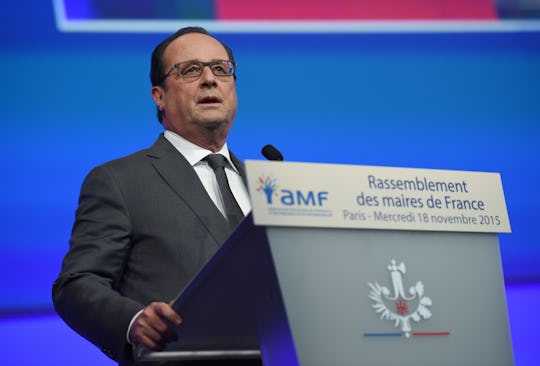 STEPHANE DE SAKUTIN/Getty Images
Syrian Refugees Are Still Welcome In France, Says President François Hollande, Despite Paris Attacks
Following the recent Paris attacks on Nov. 13, a global conversation has been sparked about what exactly to do about refugees fleeing the war-torn region of Syria. And in some cases, it has only heightened anti-immigrant and Muslim attitudes. At a Tuesday morning gathering of the nation's mayors, President François Hollande said refugees will be allowed into France. Though this announcement was reportedly well-received among the French, across the Atlantic, Americans are still divided on whether or not the U.S. should be welcoming Syrian refugees with open arms as well.
At the meeting, President Hollande defended this decision and announced that France will continue to be "a country of freedom." After receiving a standing ovation, President Hollande reassured officials that "life should resume fully" as the nation comes to terms with last week's attacks, which claimed the lives of over 130. Hollande added:
What would France be without its museums, without its terraces, its concerts, its sports competitions? France should remain as it is. Our duty is to carry on our lives.
Hollande then took to Twitter to reiterate his declaration: "We must be relentless against all forms of hate. No xenophobic, anti-Semitic, anti-Muslim Act should be tolerated," the President wrote in a translated tweet. He also tweeted that he was grateful to the French police force who are protecting citizens.
But Hollande's "open arms" approach is a far cry from how some American governors are acting post-Paris. So far, 26 states have decided that they will not accept Syrian refugees, with many governors saying they are not comfortable with the current vetting process or that European, Asian, and African countries should be taking them in. In fact, Chris Christie caused quite a stir when he told radio host Hugh Hewitt on Monday that he wouldn't even allow five-year-old Syrian orphans into New Jersey. "But you know, they have no family here. How are we going to care for these folks?" Christie questioned.
But all's not lost. Though many states are blocking refugees, Vox reports that 18 states do in fact plan to welcome Syrian refugees with open arms — and several governors have voiced support for displaced individuals. "Clearly, Oregon will continue to accept refugees," Gov. Kate Brown tweeted on Nov. 17. "They seek safe haven and we will continue to open the doors of opportunity to them." At the Senate floor, on Tuesday Massachusetts Senator Elizabeth Warren also gained attention for her criticism of states who are blocking these refugees. "We are not a nation that delivers children back into the hands of ISIS murderers," she said during her 12-minute Senate speech.
At the G-20 summit in Turkey on Monday, President Barack Obama also weighed in on the topic, and appeared to criticize presidential hopeful Jeb Bush for suggesting refugees undergo a religious test and prioritize Syrian Christians over others. "That's not American," said Obama at the summit. "That's not who we are. We don't have religious tests to our compassion," he said. Like President Hollande, Obama asserted that they will still accept refugees — from Syria and otherwise — following rigorous background and security tests. He continued:
Slamming the door in their faces would be a betrayal of our values. Our nations can welcome refugees who are desperately seeking safety and ensure our own security. We can and must do both.
Whether you agree or not that we should be letting Syrian refugees enter the U.S., one question looms: What will happen to the thousands of innocent children and families, if other leading nations don't step in?
Image: Stephanie D. Sakutin/Getty Images