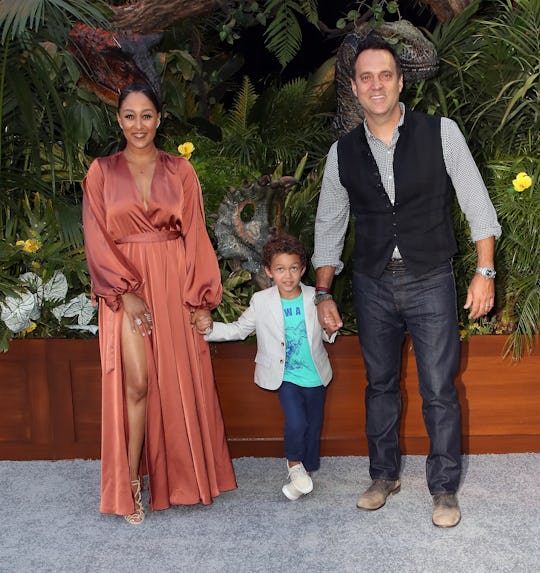 David Livingston/Getty Images Entertainment/Getty Images
Tamera Mowry-Housley Paid Tribute To Her Niece On Thanksgiving In A Simple Way
Thanksgiving is a holiday that is meant to be spent with loved ones — the holiday where friends, family, and the people you're closest to gather together to enjoy a meal, together. But when people are missing from that celebration, their absence feels so much stronger. After losing her niece in a shooting earlier this month, Tamera Mowry-Housley paid tribute to her niece on Thanksgiving, showing just how strongly her absence was felt.
Mowry-Housley's 18-year-old niece, Alaina Housley, was the victim of a "senseless" shooting in a bar in Thousand Oaks, California, when a gunman opened fire on Nov. 7 and killed 12 people, according to USA Today. This shooting had a major impact on the families of the victims — one of which was host of The Real and former Disney Channel star, Mowry-Housley. Since her niece's death, Mowry-Housley has been honest about the pain she has been going through — and Thanksgiving was no exception to that.
On Thursday, while celebrating with friends and family, Mowry took a break to share a simple yet heartfelt message to her niece on her Instagram story. "Missing you Lai Lai," Mowry wrote on the family photo with a heart around Alaina.
Sure, her message was simple, but when there is so much that can be said, sometimes simplicity is best.
This year, Mowry still has a lot to be thankful for. She has her family, who has stood by her through this rough time, and her husband, Adam Housley, who has shared her grief. Her Instagram post on Thanksgiving highlighted her appreciation for her husband through these trying times. Mowry wrote in the caption of the photo:
Thankful for you and our family. You have been our rock. Thankful for your faith in God that inspires me to keep my faith. Thank you for calming my nerves in the middle of the night. Thank you for loving me through the night.
And Adam's Instagram post on Thanksgiving was just as sentimental as Mowry-Housley's. Based on his words, you can tell that it is going to take a while for them to fully heal — as they should. But, what they can do is stand together and rely on one another, especially during the first holiday season without their niece.
"Never thought we'd be here," Adam wrote on Instagram. "Never thought we'd be together this way. The hurt been eased by a bit of warmth. We stand with so many of you as Alania's voice pushes us to make this world a better place."
As previously stated, Mowry-Housley hasn't shied away from sharing her grief with her fans. From the time that Mowry-Housley found out about her niece's death to now, she has been super honest about how she's feeling and how devastating it was for her to find out about Alaina's death, as E! News reported, which was relayed through the co-hosts of her talk show, The Real.
Shortly after identifying Alaina after the shooting, Mowry-Housley, her husband, and his family released a statement saying they wanted to remember Alaina for who she was, according to USA Today. Adam described Alaina to Entertainment Tonight one day after the shooting.
"She was an incredible, beautiful girl who didn't hurt anybody and was excited to go to Italy for a program overseas... she was a good girl, she was a really good girl," Adam said.
By posting these tributes to her on Thanksgiving, Mowry-Housley and her family are doing their best to keep Alaina's memory alive. Although this holiday season is going to be hard for their family, Mowry-Housley, her husband, and their family have the support of each other and her millions of followers who understand and can have sympathy for what she's going through.
Her Thanksgiving Instagram post was only the start of this.