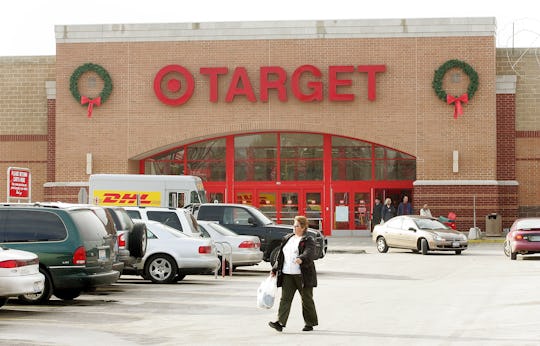 Tim Boyle/Getty Images News/Getty Images
Target's Black Friday Pre-Sale Is Happening But You Have To Act Really Fast
If you, like me, break out in hives at the idea of battling Black Friday shoppers to get your must-have holiday items, Target is here for you. And really, when aren't they? Surely the store has provided you with the same emotional relief I get when I walk in and find pretty, affordable clothes, innovative and inexpensive body care items, and all the stuff our family needs all in one happy place. Target knows you you like, and what you don't (and they know you don't like crowds). That's why Target is starting its Black Friday pre-sale on Nov. 1 — weeks in advance of when the crowds will start lining up. May Target protect and defend you from holiday hoards.
There is one caveat: If you want to take advantage of the year's lowest prices before the end of the month, Nov. 1 is the only day to do it. The offer is good in-store and online, according to a press release, so take a look at the flier to see if there's something essential you can't wait for Black Friday to purchase.
Should dealing with your child's Halloween hangover prove to be too much of a burden to take advantage of these day-after deals, there are plenty of incentives to wait until they come back around on Black Friday when the sale opens up even wider. Online sales start Thanksgiving morning, and in-person shoppers can head to Target at 5 p.m. The store is really going to great lengths to make the shopping experience comfortable, offering drive-up service where guests can shop from the Target app and have it loaded into their cars by employees the same day. Guests can even purchase items from the website and grab them from the store at a later time. Or, for people who prefer to put their hot little hands on the items they want to purchase, the store will have a "Skip-The-Line" checkout option where employees will scan the selected goods with a hand-held device so customers can pay on the spot. Clearly, Target wants to make this holiday season easy on you!
Now for the good stuff: the deals. Target offers over 15 televisions under $300 (including the lowest price ever for the Element 55" Smart UHD TV at $200, saving guests $180 on its full purchase price). Among the hot deals in home goods are the $70 Instant Pot 7-in-1 Duo six-quart pressure cooker, and almost 40 percent off the Keurig K-Mini single serve coffeemaker for a price of $50. But with literally hundreds of steals, you've really got to check them out for yourself. The following are some of the standouts — but remember, after Nov. 1 they'll be gone until Black Friday!