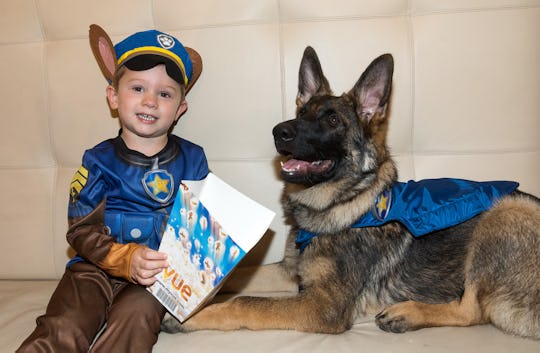 Tim P. Whitby/Getty Images Entertainment/Getty Images
Target's PAW Patrol Trick-Or-Treat Event Was A Bust, According To Some Parents
From personal experience, Halloween events for kids are hit or miss. Some communities/organizations put on phenomenal trick-or-treat-type events, during which there's plenty of candy to go around and everyone leaves happy. But other events are horribly ill-prepared. They're crowded, have huge lines, and they end up running out of candy long before it's supposed to be over. Well apparently, Target's PAW Patrol trick-or-treat event was a bust, according to some disappointed parents.
If you missed the hype leading into Saturday's PAW Patrol-themed Halloween fun, here's the scoop. As Motherly reported, families were invited to come — dressed in their Halloween costumes — to participating locations from 10 a.m. to 1 p.m. on Saturday, Oct. 27. As promised on Target's corporate page, they could then "trick-or-treat their way through the store, enjoy exciting giveaways and watch a new, never-before-seen episode of PAW Patrol." Target also used the event as an opportunity to promote its lineup of PAW Patrol merchandise. Sounds like a decent time, right? The kiddos can get out of the house and enjoy some PAW-Patrol activities and candy — and parents can grab a latte while hanging out at one of their all-time favorite stores.
As it turned out, some parents were seriously upset by the experience at their local Target store. And they made sure to let their feelings be known via Twitter. One person wrote, "What a disappointment — nothing more than a Paw Patrol Bucket with a bag of fruit snacks. Where is the trick or treating?!?" one parent wrote, alongside of a photo of a nearly-empty bucket."
Another disgruntled parent tweeted, "@Target disappointed in your "Trick or Treat" efforts in Canton Ga. 4 little tables set up (2 up front , 2 in back of the store). Paw patrol package fruit snacks, miniature candy bars straight from a multipack on the Halloween aisle. 3 crayons and a coloring sheet. Boo on you."
Yet another person chimed in with, "Major fail @Target. Hundreds of disappointed families that dressed for a paw patrol event advertised 10-1pm. Arrived at 10:20 and out of candy. You have an entire Halloween section to pull from. Why cancel event?"
One Twitter user was under the impression that PAW Patrol characters would be present at the trick-or-treat event. They wrote, "This seems a little misleading. Your kids truck or treat and they play an episode of Paw Patrol. Adding the 'with' made me think there was going to be actual Paw Patrol character that you trick or treat *WITH*."
Yikes. It sounds like some locations seriously underestimated how many people would be interested in the event. However, It's worth noting that plenty of parents and kids managed to enjoy themselves on Saturday. One Twitter user wrote, "Had a lot of fun at the Paw Patrol event today," alongside adorable photos from the event.
Another parent seemed to appreciate the trick-or-treat event, tweeting, "Target was doing like a kids Halloween paw patrol thing so L got this little Halloween bucket. I found some clothes and books for her and some tea and candy for her dad and I and we ended up with our own little spooky bucket! "
I hesitate to compare Target's Paw Patrol trick-or-treat event to the enormous bust that was this summer's Build-a-Bear "pay your age" fiasco, but that's immediately what comes to mind. Honestly though? This seems more like a case of parents and kids getting a bit too excited about PAW Patrol fun at Target — and allowing their expectations to get carried away. Because in Target's defense, nowhere in the promotional details does it say PAW Patrol characters would be walking around, or that kids would walk away with giant buckets full of candy.
Still, I can understand parents' frustration if stores ran out of candy 20 minutes into the event when their child was looking forward to it all week. Hopefully, Target's PAW Patrol trick-or-treat bust serves as a learning opportunity for everyone if the company decides to do something similar next year.