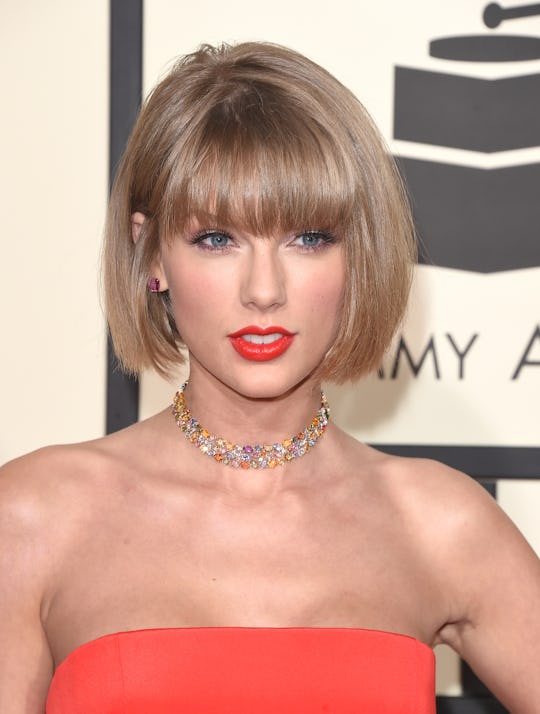 Jason Merritt/TERM/Getty Images Entertainment/Getty Images
'Scandal' Fans Had Strong Feelings About Taylor Swift's "New Year's Day" Performance
When it was announced that Taylor Swift would be premiering one of the songs from her new album during ABC's Thursday night lineup of TGIT shows, most fans were pretty excited for the preview of her Reputation album. And even though it was anticipated by many, there's no denying that some viewers had strong feelings when Taylor Swift's "New Year's Day" performance interrupted Scandal. Swift's album will be released in its entirety on Friday, November 10, but thanks to the Secret Sessions she'd hosted over the past year, giving groups of fans special previews of the songs on Reputation, the anticipation had grown even stronger for what's to come when the album is officially dropped.
But judging by some fans' reactions to Swift's performance occurring right in the middle of Scandal Thursday night, it might not have been the best time for it, even if it did ensure that the preview of the song received millions of live views. While some of the more dedicated Swift fans were all for the break in the political drama since it was in the name of her "New Year's Day" track, thought to be a possible hint at an engagement with boyfriend Joe Alwyn, other fans didn't take too kindly to the interruption of their regularly scheduled programming.
In a way, you can't really blame the fans who would have rather watched Scandal through and then watched Swift's world premiere of "New Year's Day" afterward, but personally I thought it was better than a full commercial break. Though some Scandal fans may not agree with that.
While some viewers would have preferred Swift's performance to have taken place after the show ended for the night, others had different ideas about when it could have premiered. But after the promos for all of the TGIT shows at the beginning of the season featured a backdrop of Swift's "Look What You Made Me Do," this was probably the perfect time for the premiere regardless.
For every Scandal fan who was anxiously waiting for the show to come back on, there were still plenty who welcomed Swift's "New Year's Day" performance during Scandal, especially since it didn't necessarily take up any extra time from the actual show.
Other than getting to hear and see Swift perform a song from Reputation before the album's official release, getting to experience "New Year's Day" was exciting for another reason as well. After one of her Secret Sessions when she allowed fans to hear this particular song, the rumors started flying that it was meant to be an engagement song and the theory was thrown out there that Swift and Alwyn got engaged on New Year's Day. The rumor was further fuelled when Swift posted a video about the listening parties where she revealed that "Everything about this album is a secret."
That could have just meant that the fans attending the parties weren't supposed to reveal anything about what they heard. Or, if you're all about those engagement rumors, it could have meant that the tracks have deeper meaning to them this time around. So naturally, getting to see Swift perform "New Year's Day" during Scandal Thursday night was kind of a big deal, even if some people didn't think so.
At the very least, the Scandal interruption for "New Year's Day" wasn't done without warning or in the middle of a pivotal scene, but instead took up an entire commercial break, so when it comes down to it, viewers who may have preferred not to see the performance got a pretty good deal anyway.
Even if you aren't a diehard Swift fan, it was pretty genius to put the interruption right in the middle of a show that gets millions of viewers each week.
Check out Romper's new video series, Romper's Doula Diaries:
Watch full episodes of Romper's Doula Diaries on Facebook Watch.