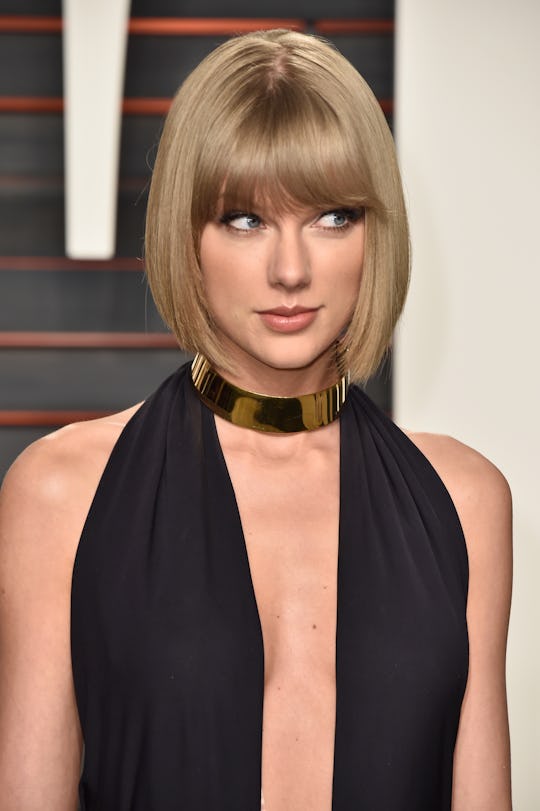 Pascal Le Segretain/Getty Images Entertainment/Getty Images
People Think Taylor Swift Might Be Pregnant Because Of These Fan Photos, & It's Just Ridiculous
Pop quiz: Which music entertainer is rumored to be pregnant this week? Pencils down! If you guessed Rihanna — that's last week's rumor mill. The new hotness is that people think Taylor Swift might be pregnant and I literally can't right now. The pregnant rumor mill began to crank up in earnest after a photo emerged on social media from Swift's private secret sessions listening party on Wednesday for her new album, Reputation, set to drop on Nov. 10. As in previous secret sessions, Swift handpicks some of her biggest fans to come chill out at her Rhode Island home and listen to her newest album before the rest of the world gets to hear it. It was one fan's photo with Swift that sparked the pregnancy speculation.
The culprit for all the rumors? Swift's sweatshirt dress. In the photo with Swift and a superfan who goes by @gingerswift13 on Twitter, the 27-year-old music star is seen hugging with her fan in front of a bookshelf. Swift's style is seriously on point, with a black embellished sweatshirt dress and over-the-knee black boots. The way Swift and gingerswift13 are standing together, it definitely looks like the singer is sporting some kind of baby bump — but it's totally just a trick of the eye. Swift appears to be arching her back, while gingerswift13 herself even apologized to Swift on Twitter, saying, "Dear Taylor, sorry my boob apparently makes you look pregnant."
But the pregnancy rumors didn't start at Swift's Reputation secret listening party. A week before, a video emerged via two Taylor Swift fan networks on Instagram and Twitter showing Swift meeting with a fan in London. The video is a relatively run of the mill fan encounter: One fan gushes to her musical idol while Swift engages her in genuine conversation.
Swift was also wearing a black blousy sweatshirt in the video, and again — people immediately thought "pregnant" rather than just the draping of her clothes. One Twitter follower and fan remarked, "Swifties don't you notice? Taylor looks pregnant here, or is it just me?" And from there, Taylor Swift pregnancy speculation took off like wildfire on social media.
Swift's "is she or isn't she" pregnancy speculation comes on the heels of a particularly fertile fall in the entertainment industry: First there was Kylie Jenner's pregnancy rumor in September — which, despite all the reports, has yet to be confirmed by the model herself. The same thing happened to Khloe Kardashian, who is also rumored to be pregnant, though the reports are also still unconfirmed. Now there are rumors that even Kourtney Kardashian is pregnant — again, unconfirmed — but I'm throwing a pretty dubious side-eye at that rumor. Aside from the Kardashians, fans are also speculating that Rihanna might be pregnant, too.
Noticing a trend here with all these "Is so-and-so and such-and-such celebrity pregnant?" rumors as of late? I certainly have. Let's see if you can, too. Here's a photo from Kylie Jenner's Instagram earlier this month:
Editor's Note: The Instagram post has since been deleted.
And here's a photo of big sis Khloe Kardashian, posted to sister Kim's Instagram just yesterday:
This is RiRi from over the weekend, posted to her Instagram account:
Editor's Note: The Instagram post has since been deleted.
And here's another photo from another fan meet and greet with Taylor Swift, retweeted by another Swifty fan account:
The common denominator here seems to be loose, baggy, or oversized clothing. (Also, stripes — but I think that's just a coincidence more than fashion trend.) At this year's NYC Fall 2017 Fashion Week, oversized clothes were the "it" look of the runway. Considering that fashion is just as much a part of these celeb's identities and brands, I wouldn't be surprised if we see them wearing even more of this baggy, hip-hop-inspired look — especially Swift, who seems to be having some kind of reinvention-meets-bad girl comeback moment.
So of course, this now means that if fans can't trace a celeb's perfect hip- and waist- outline in any given photo or video then they must totally be hiding a pregnancy. But let's get real for a second: They're not. (The jury's still out on the Kardashians though, but that's because there might be some crazy Kris Jenner master pregnancy conspiracy plot happening on KUWTK.)
In reality what most fans are most likely seeing among these celebs — especially with Rihanna and Swift — are mounds of fabric, not a hidden, growing fetus. It's bad enough that women have to deal with body shaming on the regular, celebrities or otherwise — and speculating that someone is pregnant based on how they look is a form of body shaming. What's worse is that these same arguments about what a woman wears were used to say Beyoncé's pregnancy with Blue Ivy was fake — again, because of her clothes.
Here's the scoop, Swifties: Tay Tay is most likely not pregnant. It's her outfit. And to be honest, it's none of our business whether she is or isn't pregnant — and Swift gets to dictate if and how she'd ever reveal that kind of news to fans. It's not up to us to just collectively "decide" Taylor Swift must be pregnant based on some visually obscure photography.
Watch Romper's new video series, Romper's Doula Diaries:
Check out the entire Romper's Doula Diaries series and other videos on Facebook and the Bustle app across Apple TV, Roku, and Amazon Fire TV.