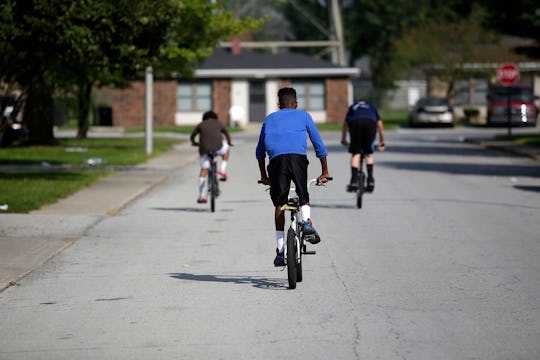 Joshua Lott/Getty Images News/Getty Images
This Teacher Gave Her Students The Best Surprise
When you're a kid, there is simply nothing in your world quite like your bike. A bike means freedom; A bike is wheels under your feet, that first whiff of beautiful, sweet independence. A bike is to a 6-year-old what a car is to a 16-year-old: the key to unlock the door for the next person you are going to be. Unfortunately, not every kid out there gets to have their very own bike, and Katie Blomquist was simply not OK with that. So the South Carolina teacher surprised her students with bikes of their own — a full 650 of them, enough to make sure no kid at the school walked away empty-handed. Because she understood everything a bike would represent to those kids: a gateway vehicle meant for exploring.
Blomquist, a first grade teacher at Pepperhill Elementary School in North Charleston, realized on Labor Day in 2016 that many of the students at her school did not have bikes. Much of the Pepperhill Elementary population is in a lower income bracket, and the students' families could not necessarily afford to buy bikes for their kids. Which had Blomquist thinking things had to change. She started a GoFundMe page called Every Kid Deserves A Bike to raise enough money to make sure every one of the 650 students at the school got their own bike to take home. Romper has reached out to Katie Blomquist for further comment on the adorable act of kindness and is awaiting a reply.
Initially hoping to raise $60,000 to surprise the kids for Christmas, Blomquist wrote on her Go Fund Me page:
Every child deserves to have a bike, but, unfortunately, not every child has the opportunity to receive one. I teach at a title 1 school (low income, high poverty) in North Charleston, South Carolina with a student body of about 650 students. I see directly the struggles and the difficult hands in life some children are dealt. Many do not have the chance to visit places outside their immediate community or have a variety of experiences over weekends and the summer; rather, many children solely play on their street with neighborhood kids or strictly watch television. Over the years, after talking with students, I have come to the realization many have never ridden a bike nor do they have the means to own a bike, especially one that is new. I soon began to envision how each student's quality of life could improve if they had more freedom to ride around their neighborhoods.
This hardworking, big-hearted teacher might not have made her Christmas deadline, but she made it happen. In fact, she more than made it happen. The GoFundMe campaign raised over $80,000, mostly through generous donations by community members, many of whom were there in March to see the 650 Radio Flyers delivered. As Blomquist told ABC News 4:
Don't know very many cities where communities of strangers take off work and assemble bikes for kids they don't know, for a teacher they've never heard of for a school they've never heard of.
While the community of strangers certainly made things happen with their generous donations, nothing would have happened if Katie Blomquist hadn't seen a need in her students and committed herself to affecting change for them. Because this is what so many public school teachers do, despite what some politicians might have you believe: They invest in the kids they teach. They bring the worries of those kids home with them, they dedicate themselves to edging their students toward a future of possibilities.
And in the case of Katie Blomquist, she has given 650 students the opportunity to go out and chase opportunity themselves, atop their very own bikes.
Which is exactly as it should be.