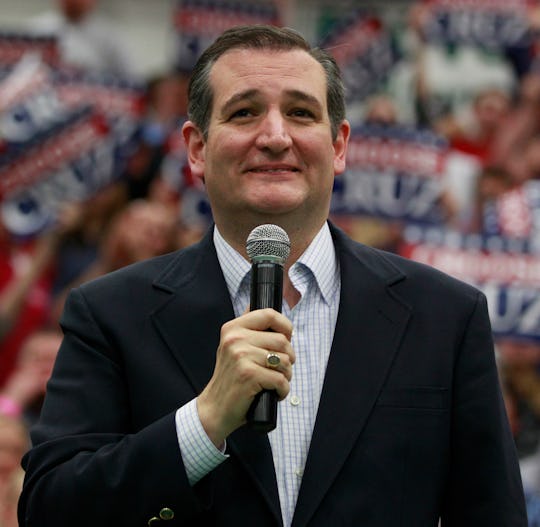 George Frey/Getty Images News/Getty Images
Ted Cruz' Reaction To Brussels Attack Makes Many Question His Priorities
Following the abjectly terrifying and infuriating as Tuesday morning's terrorist attacks in Brussels, Ted Cruz decided it was a pretty sweet opportunity to talk about how great of a president he would be, since, you know, he wouldn't hesistate to blame an entire religion for terrorist attacks as soon as they happen (who needs facts, right?). Anyway, Republican presidential candidate Ted Cruz' reaction to the Brussels attacks are causing many people to question his priorities (some people, for the first time; others, for about the 87th time this month): Is he really interested in expressing sympathy and sadness for the victims in Belgium, or is he merely using these attacks as the latest platform upon which to continue pushing his campaign agenda?
(Update: ISIS has claimed responsibility for the terror attacks in Brussels Tuesday.)
Around 8 a.m. local time on Tuesday morning, over two dozen were killed and more than 130 were injured in three separate attacks: two at Brussels' Zaventem Airport and a third at a subway station near Maalbeek, a suburb of the Belgian capital. Here is what Cruz had to say:
Following the arrest of Salah Abdeslam, a suspect in last year's terror attacks in Paris, which took place in a Brussels suburb just four days before Tuesday's attacks in the same city, European counterterrorism officials have said that ISIS is suspected to be behind the Brussels attacks. That said, as of late Tuesday afternoon local time, ISIS has not yet taken responsibility for the attacks (nor has any other party). (Update: ISIS has since claimed responsibility for the terror attacks in Brussels Tuesday.)
The fact that GOP presidential hopeful Cruz decried "radical Islam" in the same paragraph as offering his initial condolences to the victims while also using the moment to reaffirm why "naming our enemy" makes him uniquely qualified to be president... It's not exactly going down easily with a lot of people:
Naturally, when something like a terrorist attack happens during an election year, the candidates are going to chime in. But there's generally always been an unspoken rule that when something tragic happens, you're supposed to offer your sympathy and support, and speak to our collective need as a nation to "come together" and maybe even "support our allies" — basically, if you're a presidential candidate on the day of a terrorist attack, your job is to look like a strong leader without looking opportunistic, desperately self-aggrandizing, or even merely self-involved.
The other candidates, with their reactions to the Brussels attacks, mostly walked that line because, again, that's what they know they're supposed to do:
I mean, I don't want to tell anyone how to do their job, but when your response to a terrorist attack is more anti-Islam than Donald Actual Trump's response, maybe you should've gone through a few more drafts.