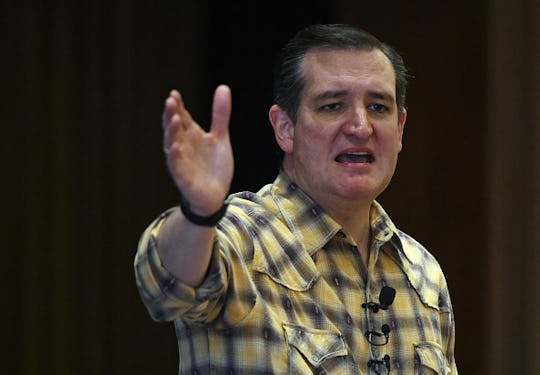 Ted Cruz Says Han Solo Shot First & 7 Other Times 'Star Wars' & Politics Collided
You know Star Wars: The Force Awakens is breaking box office records and has successfully taken over the world, when potential presidential nominees start chiming in. This week, Republican hopeful Ted Cruz said Han Solo shot first while fielding questions about Star Wars, The Avengers, Star Trek, and The Hunger Games.
Appearing on Geek Tank Radio on 600WREC, the Texas senator and Republican party nominee feigned his love for the Star Wars franchise, recalling the time he stood in line for "three hours" to see Star Wars: The Empire Strikes Back when he was a kid. The also admitted that he watched Star Wars: The Force Awakens instead of watching the latest Democratic presidential debate on ABC, which aired Dec. 19.
He then snuck in which side of the fence he stood, when it came to the iconic argument of "who shot first, Han Solo or Greedo?"
Just for the record, Han Solo shot first.
Cruz then went on to add that he was thankful Star Wars: The Force Awakens didn't feature Jar Jar Binks, before moving onto Star Trek and liking his personality to that of Spock and Captain Kirk.
While it's clear that Ted Cruz has the Force on the brain, he isn't the other politician to be pulled to the dark side (seriously). Here are seven other times politicians referend Star Wars and showed the force was with them, for better or for worse.