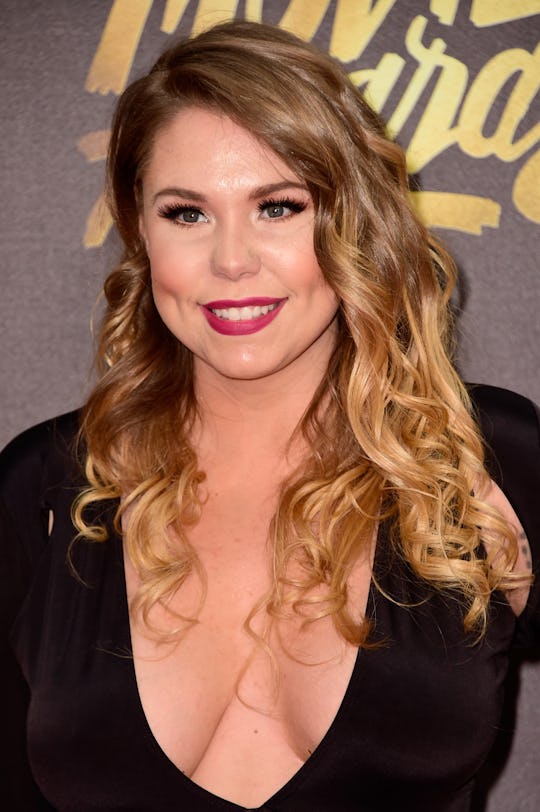 Frazer Harrison/Getty Images Entertainment/Getty Images
'Teen Mom 2' Star Kailyn Lowry Gives Birth To Her 3rd Child
The newest member of the Teen Mom franchise is finally here and no, it's not another mom. Teen Mom 2 star Kailyn Lowry has given birth to her third child, according to Radar Online, turning her sweet brood into a family of four. Her pregnancy is currently being talked about on the latest season of Teen Mom 2, so it's safe to assume that fans will get to see the birth of the newest member of Lowry's family in a future episode. Lowry announced her pregnancy in a blog post earlier this year, reported People, just a few months after divorcing her husband, Javi Marroquin, whom she shares son Lincoln with. Her oldest son, Isaac, is from her relationship with Jo Rivera, and was the pregnancy that launched her into fame on MTV's 16 & Pregnant.
Fans have been eagerly awaiting for news of Lowry's pregnancy, especially since she never gave an official due date and was fairly quiet on who the father of this child was. According to In Touch Weekly, the newest baby is the child of Lowry's ex-boyfriend, Chris Lopez, whom she split with before the baby was born. Like her previous pregnancies, Lowry refused to find out the sex of the baby before they were born, but it looks like she'll be able to use plenty of hand-me-downs. According to her Twitter, Lowry gave birth to another baby boy.
Radar Online reported that the tiniest brother weighs 7 pounds, 15 ounces, and Lowry has yet to release a name. Earlier this summer, she took to Twitter to ask for baby name suggestions, so here's to hoping she fell in love with one.
Lowry's pregnancy has received a lot of press attention and a lot of it has been focused on her heading into single parenthood — In Touch Weekly reported that Lopez and Lowry are not on good terms and he apparently doesn't want anything to do with the baby. But the truth is, it's nobody's business how Lowry handles her family dynamics, as long as the littlest boy in her family is loved and well taken care of. She's proven on Teen Mom 2 that above all, she loves her boys, so fans can rest easy knowing that the newest little guy is going to be just fine with Lowry and big brothers, Isaac and Lincoln looking after him.
Congratulations to the whole family.