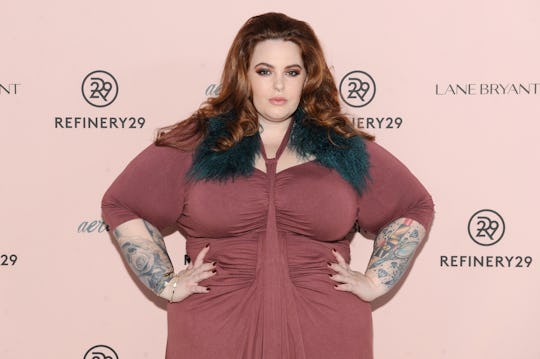 Craig Barritt/Getty Images Entertainment/Getty Images
Tess Holliday Threw Her Son A Pokemon-Themed Party
After marching for women's rights this past weekend, model Tess Holliday threw a Pokemon-themed party for her son. The tattooed model and advocate threw the bash for Rylee, her son from a previous relationship, who turned 11 on Jan. 19. Could she get any cooler?
Holliday, who is engaged to Nick Holliday, had adorable cupcakes that were adorned with the faces of several of the critters from Pokemon, including Squirtle, Charmander and Jigglypuff. Rylee's cake was a perfect Pokeball, which was made by the L.A. bakery Little Sweeties. There were even Pokeball donuts for those who wanted another sweet option, crafted by California Donuts.
Holliday isn't the only celebrity whose kids are crazy for Pokemon; Britney Spears threw a joint Pokémon-themed birthday bash for her two sons last September.
The birthday bash came after a busy weekend for Holliday, who participated in Los Angele's Women's March, which according to The LA Times. The march drew crowds of anywhere from 500,000 to 750,000 people. Holliday made headlines during the march because she posted a photo of herself breastfeeding her youngest child, Bowie Juniper, to advocate for breastfeeding in public spaces to be normalized.
Holliday has long been an advocate for women's issues, especially body positivity. The model, who wears a size 22, has called out the fashion industry for not having more options for plus-size women. Holliday also isn't afraid to address people who write mean comments about her or other plus-size women on the internet. She regularly posts photos of her body and is honest about how her body has changed after giving birth last year.
But in between her advocacy, Holliday made sure to celebrate her eldest son's big day. Just days ago, Holliday gushed about Rylee on Instagram. She shared a photo of Rylee feeding his baby brother. She wrote about how devoted Rylee is as a big brother, captioning the photo with these sweet words:
Happy 11th birthday to the best big brother ever. You have a huge heart & a passion for arts (& zebra cakes) which I love watching both grow & blossom. We (love) you Ry! (p.s. He begged to feed Bowie dinner to 'give me a break,' that kid).
Holliday's modeling career has blown up, and she was even the first plus-sized model to be featured on People magazine's cover. But though she takes her career seriously, she always puts family first and even wants to have more kids, Holliday told Marie Claire.
Career-wise, a lot of cool things are happening, a lot of options are opening up that I didn't have before, people are knocking on my door. But I'm focused first on family.
So let's count on Holliday throwing an even cooler party for Rylee's 12th birthday.