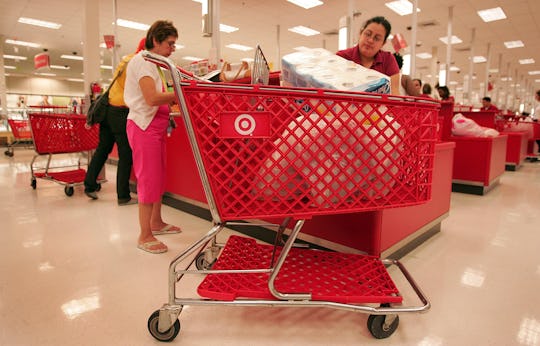 Scott Olson/Getty Images News/Getty Images
The 2016 Target Cyber Monday Deals Start Early, So Get Shopping
Typically if you ask the question of, "Want to go to Target?" the response is an enthusiastic yes. That's why a bunch of people are biting their nails over the 2016 Target Cyber Monday Deals. Not only is everything at Target wonderful, but discounts are a beautiful thing.
The best thing about Target is that it literally has something for everyone. It's almost impossible to walk in and leave empty-handed. So that's why Target's Ten Days of Deals promo is so incredible — it really tends to all types of customers. The deals start on Saturday, Nov. 19 and last until (Cyber) Monday, Nov. 28. And while a bunch of deals leading up to Black Friday and Cyber Monday have already been released, the company is waiting to reveal the two that'll truly cap their end-of-the-year shopping bonanza.
This is actually the second year that Target is running it's Ten Days of Deals, since it was such a success last year, the company decided to bring it back and make it better than ever.
Shop Target's Ten Days of Deals at Target.com
"This year, we're bringing back some of our guests' favorite offers, as well as introducing even more compelling deals, to help them save on the gifts and essentials that matter most during this time of year," Mark Tritton, the executive vice president and chief merchandising officer of Target, said in a press release.
Deal-hunters, here's what you can expect.