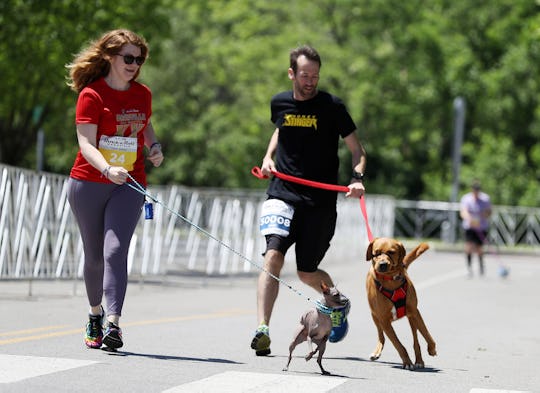 Al Bello/Getty Images Sport/Getty Images
If Your Family Likes To Move, These 5 Dogs Will Love Keeping Up
At our local park, you can tell a lot about families by the kinds of dogs they have. Some parents come with their Pugs and French Bulldogs, who trot happily by their side and then lie down patiently by the benches while the kids hit the swings and slides. Then there are the families whose pets are clearly there to fetch Frisbees and tennis balls, join them on jogs, and supervise soccer games. These dog breeds are great for active families, and both pooches and people couldn't be happier.
Just like us, dogs come in all shapes, sizes, and activity levels. Some were originally bred to be companion pets for royalty, according to the American Kennel Club (AKC) such as the Cavalier King Charles Spaniel, Pekingese, and Shih Tzu. Their job was primarily to sit on laps and provide love and amusement to their regal owners. Others were bred for stamina, obedience, and other qualities that would make them suitable for helping hunters and farmers.
Romper asked Lauren McDevitt, co-founder of Good Dog (a site that matches potential dog owners to breeders and shelters), to weigh in on the breeds most likely to suit a family looking for a dog who can keep up with their on-the-go lifestyle. One of them might turn out to be your new playmate and best friend.