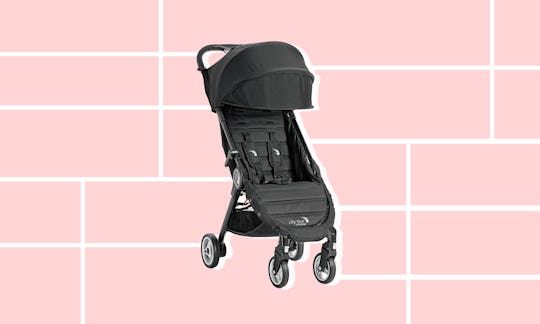 Bustle/Amazon
These Compact, Foldable Strollers Take The Stress Out Of Traveling With Kids
Even if you've packed for your next trip weeks in advance and have everything under control, small children usually require products you maybe never thought you'd need — including one of the best travel strollers. Because, make no doubt about it: That bulky, super sturdy stroller you use on your home turf probably isn't going to fit comfortably in an airplane's overhead compartment.
When you're shopping for an innovative travel stroller, the most popular option and the one that weighs the least, is an umbrella stroller that folds up easily and takes up very little storage space. If you rarely use your travel stroller or have an older child, a bare-boned umbrella stroller is a great alternative to bigger strollers and can save you money.
If you'd really love your newborn to nap in the stroller, or will be spending tons of time outdoors and require a stroller with an expandable canopy and UV protection, opt for a five-harness stroller that boasts more features than a simple umbrella, but is lighter and folds up to a more compact shape than traditional strollers.
Depending on your travel style, lifestyle, and needs — because if you have twin toddlers a double stroller is a necessity — one of the best travel strollers will make packing and planning for your next vacation a breeze (or close enough to it).