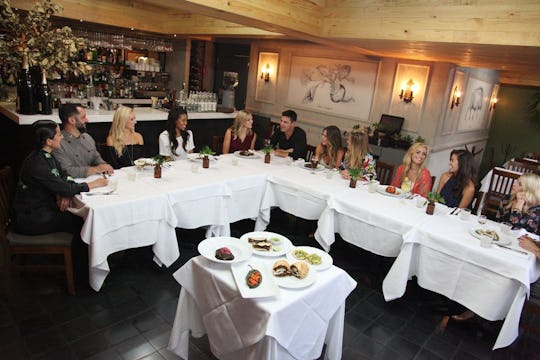 'The Bachelor' Contestants All Think They're Dating Ben Higgins, Which Is Somewhat Unrealistic
Monday's episode of the ABC reality series The Bachelor was another installment that made dating seem like a high-stakes sporting event with only one winner: The Bachelor women all think they're dating Ben Higgins, even though they all know that, in the end, only one will emerge as the victor. You know, like in The Hunger Games.
There's something inherently delusional about the situation. While on solo dates with Ben, each woman gets to pretend that they're in some sort of monogamous situation, while they're actually engaged in all-out polyamory. The one contestant who most seems to think that her and Ben are a duo, not a, ummm, ten-o, is 23-year-old news reporter Olivia Caridi, who said during Monday's episode that the "love language" between herself and Higgins is "reserved for us." Apparently, Caridi is choosing to ignore all the other ladies in the house. This is the same woman who said during last week's episode that Higgins is "her husband," and that she's being "cheated on" when he meets with the other women.
Now that there are only 11 contestants remaining on The Bachelor, everyone's starting to throw around the L-word. Nowhere was this more clear than when Higgins plus the ladies took a Spanish lesson together. In a seeming bid to torture everyone involved, the contestants plus Ben were instructed to say "I'm falling in love with you" in Spanish. Which seems romantic, except they're all saying it in front of the ten other women who Ben is also dating.
The ladies didn't seem to mind, though, except for Jubilee Sharpe. When Ben said "I love you," she shot him a cold look and said "You said that to the last four girls."
This was probably the most sensical thing anyone had said all episode, yet everyone looked at Sharpe like she'd just lost her marbles. "Jubilee was throwing a little 'tude," contestant Jennifer told the camera, making it clear that 'tude is a bad thing.
The women aren't the only ones confused about the group dating situation. Higgins, too, seems to sometimes forget all about the other ladies when he's on a one-on-one. When Amanda tells him her sad divorce story, Higgins seems to legit empathize with her. "How some guy can let someone like Amanda walk away, I don't get," Higgins said during the episode. "That blows me away."
Except, like, hello Ben, there's a ten-in-eleven chance that you're going to walk away from Amanda too, remember? Because of how you're dating ten other women?
Reality bites sometimes, so thank goodness Ben and the women can forget all about reality while they're on their one-on-ones.