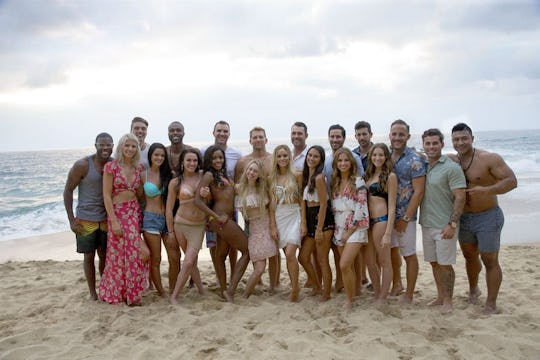 Paul Hebert/ABC
The 'Bachelor In Paradise' Opening Credits Is More Ridiculous Than Ever, & Fans Love it
The opening theme song sequence on Bachelor in Paradise is something fans have come to look forward to each season and expect the most cringe worthy scenes and sound effects from. Naturally, the Bachelor in Paradise opening credits is more ridiculous than ever this season and fans are loving it. From Taylor Nolan's Emotional Intelligence book to the pizza slice following Amanda Stanton down the beach, there are definitely some Easter eggs for die hard Bachelor Nation fans to enjoy.
It's not a huge surprise that the opening credits for Season 4 of Bachelor in Paradise are full of overbearing sound effects and scenes that seem to make very little sense. And even though it might in fact get worse every season, it's in a way that fans have come to love and this time around it's no different. We haven't yet been promised that this is the "most dramatic season yet" of Bachelor in Paradise, and for most fans, the opening credits are what sets the tone for the show.
Of course there are sure to be some serious moments, especially when the Corinne Olympios and DeMario Jackson scandal is rehashed, but as a whole, Bachelor in Paradise is typically a lot lighter. And all of the sound effects and seemingly random shots in the intro are proof of that.
Granted, some of the scenes in the opening credits this season are easy to understand, like Alexis in her shark/dolphin costume or Matt's penguin feet. But there's also the weirdly crunchy burger Kristina's eating and Robby's too tight jean shorts. It's kind of all over the place, but with Bachelor in Paradise, you don't expect a super serious opening theme song.
Bachelor in Paradise is usually the more light hearted Bachelor Nation show to cleanse your palate after enduring a season of heartache and tears on The Bachelorette that comes before it. I'm not saying Season 4 of Bachelor in Paradise won't have contestants shedding some tears, but it's the more outgoing cousin of The Bachelor and The Bachelorette, so of course the show's over the top opening credits reflect that.
As the season progresses and different contestants' hearts are broken, the Bachelor in Paradise credits are going to be a welcome presence to get viewers through all of the heartache. Season 4 only filmed over the span of less than three weeks, but we still have a full six week season to enjoy the opening credits, as cringe worthy and awkward as they may be.