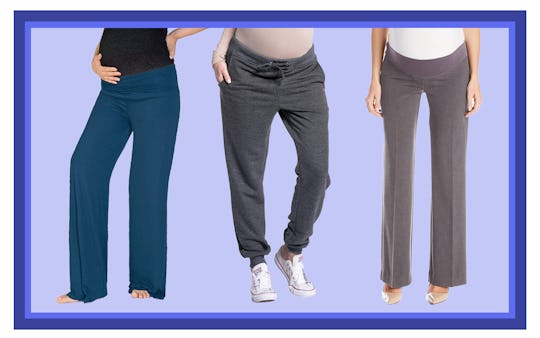 Amazon/Romper
Amazon Actually Has Some Great Maternity Pants — & These Are The Best Ones
Slipping into a good pair of comfortable pants is the equivalent of eating a chocolate sundae: Every minute you spend wearing them is glorious and better than the last. But when you're pregnant, the best maternity pants have to be comfortable.
Once you start shopping in the maternity section, you quickly realize you can score maternity pants in a wide range of styles, sizes, and fabrics. Generally speaking, most will have some type of elasticized waistband that expands to accommodate your growing bump — and a great majority are also designed with stretch belly panels that can be worn over, under, or directly on top of your bump. You should even be able to wear them up to one month after your delivery, and trust me, they'll come in handy during those postpartum stages, too.
The biggest thing you'll want to pay attention to is fabric. Corduroy maternity pants that keep you warm and toasty if you're pregnant in the winter aren't going to be of much use when you're eight months pregnant in July and could really use a moisture-wicking, breathable pair of cotton lounge pants.
There's no doubt about it: Pregnancy sometimes requires a few wardrobe tweaks, but that doesn't mean you have to sacrifice style for functionality. While you're stocking up on great nursing bras and trendy baby products on Amazon, don't forget about these maternity pants. They'll take you from lounging around your house to your Monday morning work meeting... comfortably.