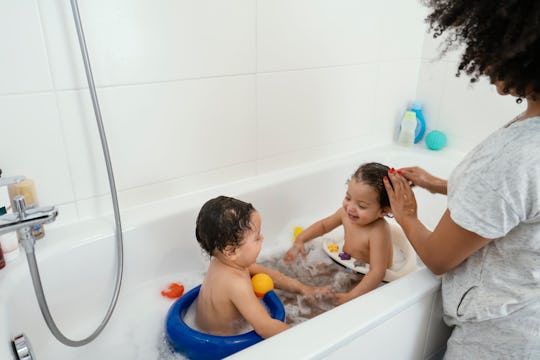 Vesnaandjic/E+/Getty Images
Here's The Easiest Way To Clean A Bathtub So It's Really, Actually Clean
Bath time is all fun and games until you start thinking about what lies beneath the surface. More often than not, you're bound to find a whole lot more than just fruity-scented bubbles come tub time... like, bacteria. And since you want your child to leave the tub cleaner than when he went into it, you'll need to find the easiest way to clean a bathtub. Sure, it might take a few steps, but your efforts will mean a more sanitary experience for everyone.
We know, we know. Of all the household chores you have to do, being on your knees and scrubbing a tub probably ranks right at the bottom. It's not really a lot of fun, but when you think of the alternative (i.e., your kids sitting in staph, salmonella, and a whole host of other nasties, per WebMD), you'll probably want to whip out the wipes and start scrubbing immediately. Of course, the key to keeping your bathtub sparkling, is, well, cleaning it frequently. "When you clean your tub more often, the easier it is to clean," Mary Cherry, a cleaning expert, tells Romper. "Soap scum and dirt will not have ample time to build up, and you will save your arms from scrubbing."
So get ready to sanitize your space, because these tips will help you get your tub totally clean — well, at least until next week.