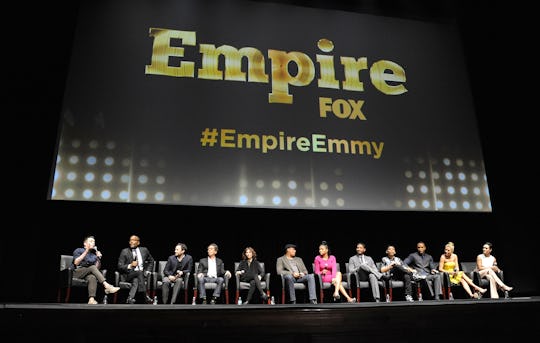 Angela Weiss/Getty Images Entertainment/Getty Images
The 'Empire' Cast Officially Endorses Hillary Clinton In A New Ad
The race for president in 2016 has been a monumental election for so many reasons. For one, it's given us our first female nominee for a major U.S. political party – Hillary Clinton. For another, it's been one of the most contentious elections in recent memory, with Republican Nominee Donald Trump and Democratic Nominee Clinton campaigning against one another with full force. Each candidate has secured many endorsements leading up to the November 8 election, but now, Clinton has secured a brand new one, and it's pretty huge – the cast and co-creator of Empire officially endorsed Hillary Clinton in a new ad.
The ad features several of the show's cast members, as well as the show's co-creator Lee Daniels, who also directed the one-minute spot. Each cast member brings up particular issues in the election that matter to them. Bryshere Gray lists off the names of black men and women killed in police confrontations, also noting that only one candidate (Clinton) has said that Black Lives Matter. Tasha Smith comments that Clinton has pledged to close the Charleston loophole on guns. Gabourey Sidibe explains that she wants a president who will protect Obamacare, while Grace Byers wants a president who personally understands the "plight of a woman." At the end of the ad, each cast member and Daniels introduces themselves by name and states, in no uncertain terms, "I'm voting for Hillary Clinton."
Notably, Terence Howard, the show's male lead, is absent from the video. Regardless, the video is a direct and to-the-point endorsement of the Democratic presidential nominee.
This endorsement from one of the most-watched scripted shows on TV follows The Atlantic's endorsement of Clinton, which was announced yesterday, and was notably only the paper's third-ever official endorsement of a nominee in any presidential race. LeBron James also officially threw his support behind Clinton earlier this week.
The Empire ad isn't the first time that a group of celebrities has banded together to publicly support a presidential candidate, letting their fans know exactly who they're planning to vote for, and it certainly won't be the last. Hollywood's endorsements have been a huge part of the election process for years, with many celebrities endorsing Barack Obama during the 2008 and 2012 elections. Many celebs have publicly backed Clinton throughout the 2016 election, using ads to get the message across. One of the most star-studded celeb endorsements came earlier this month, when Joss Whedon debuted his "Save The Day" ad featuring "just a shit ton of famous people" telling us how important it is to register to vote.
No matter what side you fall on, with only one month to go until the vote, this election has undoubtedly been one for the books.