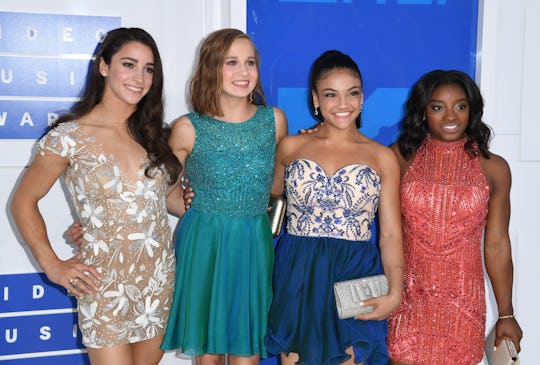 ANGELA WEISS/AFP/Getty Images
The Final 5 Present Beyonce With A VMA & We Are All Of Them In That Moment
The American Olympic gold medalist gymnasts, known now as the Final Five, minus Gabby Douglas, got to appear on the VMAs Sunday night and even got to present an award, but when the Final Five presented Beyoncé with a VMA, we all felt like they must have. Because, as all Beyoncé fans all over the world can agree, being in her presence would bring out the fangirl in all of us. Like, hardcore. It's probably a gross understatement to say that the Final Five are like normal girls who got to go to the VMAs, because they're obviously a much bigger deal than any old teenage girl, but when they presented Beyoncé with the VMA for Best Female Video for "Hold Up", it had to be a huge moment for each of them.
Simone Biles, Laurie Hernandez, Madison Kocian, and Aly Raisman presented at the VMAs, while teammate Gabby Douglas was absent after being hospitalized with "medical issues," Biles said, and when Beyoncé accepted her award she not only acknowledged the girls but she hugged them. That's right, the Final Five made physical contact with Beyoncé at the VMAs and every single one of us never wanted to be an Olympian more.
When Beyoncé hugs each girl on-stage, you can see the awe and excitement in their faces that is totally warranted, and it confirms that this is probably an insanely close second to the best moment in each of their lives. You know, because of that whole gold medal winner thing in the Summer Olympics this year.
Wearing their formal best, which in this case is appropriately their homecoming best, the Final Five presented Beyoncé with her award at the VMAs and, if you had spoken to them directly following, they would have all been likely branded speechless. Because you don't meet Beyoncé, after that insane VMA performance no less, and treat the interaction as anything less than life changing.
The totally starstruck expressions on the girls' faces are pretty legit, though, because as much as we would all like to think that we would be cool, calm, and sane if we ever met Beyoncé in real life, we would be hyperventilating. So really, the Final Five, in all of their obvious excitement and admiration, are probably doing a lot better than some of us when meeting and hugging Beyoncé on-stage at the VMAs.
The Final Five are all of us when meeting Beyoncé at the VMAs, but also far more superior in all of their abilities to hold it all together.