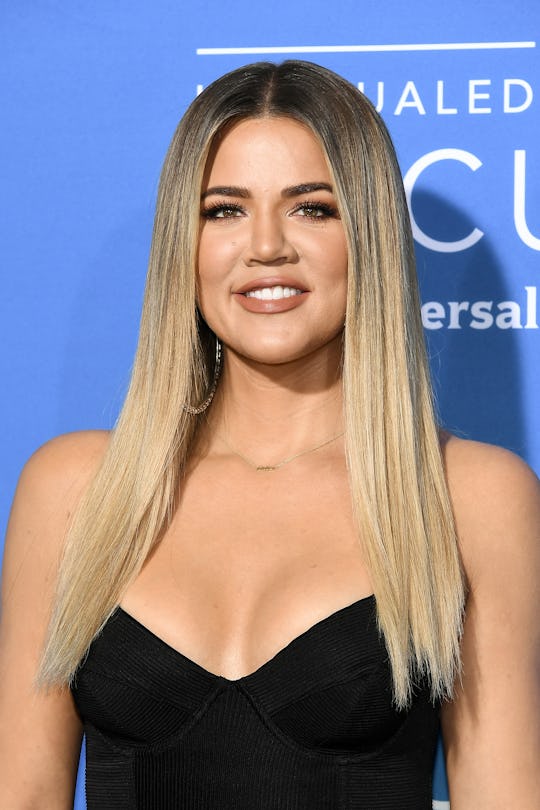 Dia Dipasupil/Getty Images Entertainment/Getty Images
The First Picture Of True Thompson Is Here & She's As Cute As You Imagined
It's no secret that Khloé Kardashian had a baby girl, True Thompson, just a month ago, but how the baby actually looks has been quite the mystery. Until now, Khloé has been pretty mum (pun totally intended) about her new baby, but after sharing a few tweets, she's now sharing the first picture of True Thompson and as you suspected, she's absolutely adorable.
OK, I know — you'd say that about any baby, right? But you guys, little True Thompson has a perfect little face and the prettiest eyes — she's seriously the cutest thing I've ever seen. Born just a month ago on April 12, True is officially out of that snuggly newborn stage and into full-blown infant/baby territory. I can only hope Khloé is adjusting just as well as her baby. I mean, look how alert and darling sweet True is in this video Khloé posted. Even with the flower filter, she looks like she's a healthy, beautiful little girl, and Khloé's voice in the background is just full of love and awe. There's nothing like becoming a mama and, if you're new to the Kardashian world (seriously, where have you been), this role has been something Khloé has wanted for a long time. Seeing her share this sweet video just makes it even better.
(Maybe it's because I'm already pregnant and hormonal, but I'm really tearing up here.) The way babies look at you is so special and in this sweet little video, it looks like True is really focusing on her mama. According to Psychology Today, babies don't have a lot of ways to control their gaze, so when they really focus on you and make eye contact, they want you to interact with them. (Omg, I'm crying again.) So hearing Khloé's voice combined with the fact that True's eyes are all on mama just proves that this bonding thing is a big deal. They both seem to be absolutely in love with each other. (I mean, I'm no psychologist, but that's what I see.)
After all the speculation on Khloé's pregnancy, followed by all the rumors of her boyfriend and True's father, Tristan Thompson, cheating on her, it's so lovely to see such an endearing moment between mother and daughter. (Especially on Khloé's first Mother's Day.) Khloé has waited a long time for this moment of motherhood, and she acknowledged it with the very first pregnancy announcement she shared, writing on Instagram:
My greatest dream realized! We are having a baby! I had been waiting and wondering but God had a plan all along. He knew what He was doing. I simply had to trust in Him and be patient. I still at times can't believe that our love created life!
But truly, the best part of this 1-month picture share and update on baby True is that Khloé totally thought her baby's 1-month birthday was a couple of days ago. On May 9, she tweeted the following, even adding a 1-month update on baby True to her app:
It didn't take long for fans to do a little math, letting Khloé know that it was Saturday, not Thursday, that was actually going to be her baby's 1-month birthday.
You guys. Truly, if that's not the most new mom thing to ever happen, I don't know what is. I'm glad Khloé could pull herself out of the diapers, feedings, and sleep-deprived state to share a quick update on her sweet baby and the first official photo (also video because of course she did it up big). Let's hope her Mother's Day is as sweet as this and she'll be just golden.