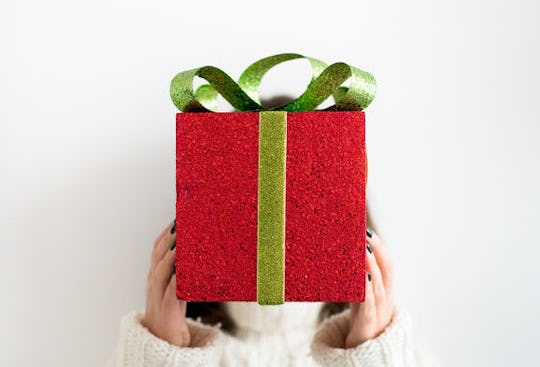 Pixel Stories/Stocksy
If You're Tired Of Receiving Gifts You Don't Love, This App Will Save You
The holiday season is here, which means while you're out shopping for thoughtful, unique gifts for everyone you know, someone is probably buying you a candle that will be shoved in the back of your closet or a piece of jewelry you'll never wear. Or worse, buying you a vacuum for the house and passing it off as a special present just for you. No thanks. Ever wish you could subtly drop a hint about what you really want? Well, the aptly named Hinted app lets you do just that.
Hinted is like a grown of up version of a letter to Santa Clause, except there's no pen and paper, or mythical elderly figure. The app, which you can also use on a desktop, lets you compile a wish list of things you'd like from any website, instead of just being confined to one store. You can even install a Chrome extension which lets you easily add stuff to your list whenever you're checking out a site. This list can then be sent to any particular person or group with a click of a button, and if anyone buys you something (fingers crossed), they can check it off your list. You'll get an email letting you know something has been purchased, but if the buyer wants to keep it a secret, you won't know who exactly has bought your item.
You're right — it does sound a bit like you're creating a registry for yourself... but why not? We live in a materialistic world where, even if you yourself are the most minimal of minimalists and don't want anyone to buy you anything ever, it's everyone else who feel like they have to get you something — anything — even if it doesn't suit you at all. So to ensure that their money and your patience (because now you're stuck with something you really don't want and have to figure out how to hide, exchange, or regift it) aren't going to waste, this platform can help steer your friends and family in the right direction.
There's really no limit to what you can add to your list. You can go big (think luxury goods from high end websites) or small (how about some new books or DVDs?) or even philanthropic (just add your favorite charity's website to your list). There's even an option to add non-monetary gifts, or "Hints from the Heart," such as a walk in the park. Bonus: You'll get an alert when an item you've saved goes on sale.
If you're still turned off by the idea of asking for specific gifts, or even dropping hints, think of it this way: The people who care about you enough to buy you a holiday present would probably jump at the chance to get you something you're guaranteed to like, and it saves them the stress of picking something out, too. A list is very easy to put together — it took me just a couple of minutes to add several items to a list, so I'm pretty sure my husband's holiday shopping just got a lot easier. If you want to make a list but aren't sure if you'll actually share it with anyone, you can mark it private, too. I definitely suggest sharing it, though — just make sure to practice your surprised face for when it's time to unwrap your gifts.
This first-time mom wants to have a home birth, but is she ready? Watch how a doula supports a military mom who's determined to have a home birth in Episode One of Romper's Doula Diaries, Season Two, below. Visit Bustle Digital Group's YouTube page for the next three episodes, launching every Monday starting November 26.