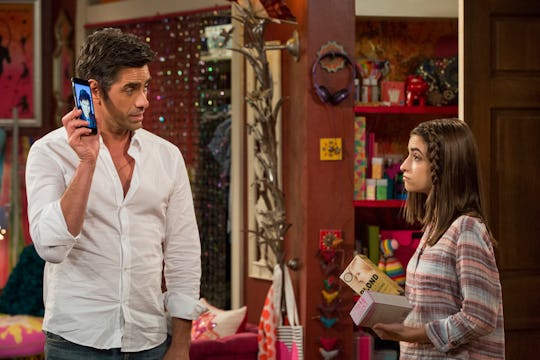 Mike Yarish / Netflix
The Jesse & Becky Cameos In 'Fuller House' Season 3 Are Missing One Key Element
Warning: Season 3 spoilers ahead! Season 3 of Fuller House has pretty much everything that fans love about the show (cheesy jokes, awww-worthy moments, catchy summer musicals), except for one small thing. The Jesse and Becky cameos in Fuller House are missing a key element — they're never shown together. Wait, hang on, let me rephrase this: The couple is still together by all accounts, so don't take that to mean they're getting a divorce. But as far as special guest appearances go, both of these characters show up in completely separate episodes.
John Stamos appears in Episode 5 with baby Pamela and babysits for the night while the whole crew goes to Kimmy Gibbler's parents' house, which was definitely an amusing time. Meanwhile, Lori Loughlin makes an appearance, with baby Pamela again, in Episode 8 to take Stephanie to a fertility doctor.
Each time, the character explains their significant other's absence with a reasonable explanation. For example, Uncle Jesse says that Becky is filming for a few weeks in New York City, which is why he's alone with the baby. So everything seems OK with them. But in the first nine episodes they just aren't around. And one never knows what will happen in the next nine episodes, which are being released later this year.
Hopefully, the whole gang will get together eventually in the backyard for some sort of family party. That's kind of their thing, after all.
The thing about these reboots is that it really depends on whether or not all of the actors have time in their busy schedules to do them, so the fact that Uncle Jesse and Aunt Becky are never together on the show this season might just be a way to work around their other projects.
That doesn't make the fact that we don't get that amazing Jesse and Becky chemistry any easier to handle. But it is better knowing that their storyline of being one of TV's best couples ever is still intact. Although in Season 2 they were fighting a lot over whether or not to adopt, they got through the struggle, as always. There's no real marital turmoil on Fuller House — just scheduling conflicts. Whew.
Even Loughlin agrees. She told Glamour ahead of Season 1, "Can you imagine if they opened the season and [Jesse and Becky] were divorced? That would not go over well!"
She's totally right. It would have been complete mayhem. But it's so sweet to know that the cast loves doing the reboot as much as fans love watching it. The whole thing was really spearheaded, in part, by John Stamos. He told Moviefone:
It's been a trip. I was involved with this reboot for six, seven years— we took it around town forever. Before Netflix, we went to 10 other places, maybe 15. Everywhere. Every single place turned it down, except for Netflix. Netflix was our last stop, and I said, 'If ABC Family or Nickelodeon aren't going to pick it up, Netflix sure the hell ain't going to pick this show up.' There was a guy there, Brian Wright, who got it. He just got it, and he knew. And here we are today.
Stamos added, "To me, [being back together] was just natural. We just kind of fell right into it. I think the challenge — and I think what's paid off — is bringing the new kids in, and trying to figure out what we did back then that we couldn't connect to now."
Whatever they're doing, it seems to be working. And it's actually better that characters like Jesse, Becky, Joey, and Danny aren't around all the time. The whole point is that the girls are all grown up and taking care of their own family now. Just like in real life, everyone eventually moves on, so Jesse and Becky's separate cameos make total sense.
But we really do hope everyone makes it to the house in the second half of the season, because those precious Becky and Jesse moments are something fans want (and expect) to see.