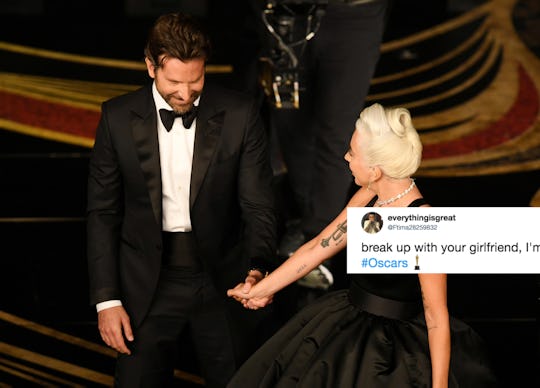 Kevin Winter/Getty Images Entertainment/Getty Images
These Memes From Bradley Cooper & Lady Gaga's Oscars Performance Are *All* You Need
OK, if you also felt like you walked in on a couple doing you-know-what during that Oscars performance of "Shallow," I'm glad to know you. That was super intense and intimate and — I'm kind of sweaty about it. But because the internet knows best, the memes from Bradley Cooper and Lady Gaga's Oscars performance are here to put that cringe in perspective. (Seriously, that felt like a big secret thing I should not be watching.) Because man, those faces they were making became great Twitter fodder.
If I were to make a meme of my own, I'd make that stoic look on Lady Gaga's face labeled "my kid" while Cooper's smiling lean-in would be labeled "me when I say it's bedtime." But I digress — the memes already rampant on Twitter and other corners of the internet are hilarious enough, and it seems like everyone's having a great time with these images of Gaga and Cooper.
TBH, this is way more fun than all of the tweets begging for the two of them to end up married or for Cooper to leave his wife and run off with Gaga so they can become actual soulmates instead of, you know, actors in a movie.
Truly, if you're going to make these faces, there's nothing to be done except meme it to death. Lady Gaga and Bradley Cooper had plenty of things to celebrate beyond becoming internet sensations though.
Both were nominated for Academy Awards, and their movie A Star Is Born was, too. (Neither Cooper nor Gaga won their respective actor statue, nor did the movie itself win Best Picture.) But beyond those, their actual performance at the Oscars had everyone talking (and meme'ing apparently). I mean, did you actually see the way they were holding hands across Irina Shayk, Cooper's longtime partner? And the way he slid onto the piano bench next to Gaga so he could share her microphone. It was so intimate I had a hard time watching the entire thing unfold on my TV. I don't get to say it often, but thanks Twitter for making that whole experience a little easier to deal with.
But as another awards show season ends, those of us looking for the perfect way to passive-aggressively drag our partners on Twitter will have to find another source of memes. Although Lady Gaga and Bradley Cooper do lend their faces to many ~feels~, this one was especially perfect with all of that intense eye contact. Maybe the VMAs will bring something great over the summer? Wasn't that where Miley Cyrus danced on Robin Thicke who was wearing a Beetlejuice-like suit? You remember those memes of Lydia from Beetlejuice in the audience, don't you?
I'm just saying — more memes are coming. I'd like to personally thank Bradley Cooper, Lady Gaga, and all of those who ship this relationship so hard for all of these memes. Also thank you to The Academy for putting those two on stage with nothing but a microphone and a piano. It's hard to photoshop around a really detailed set.