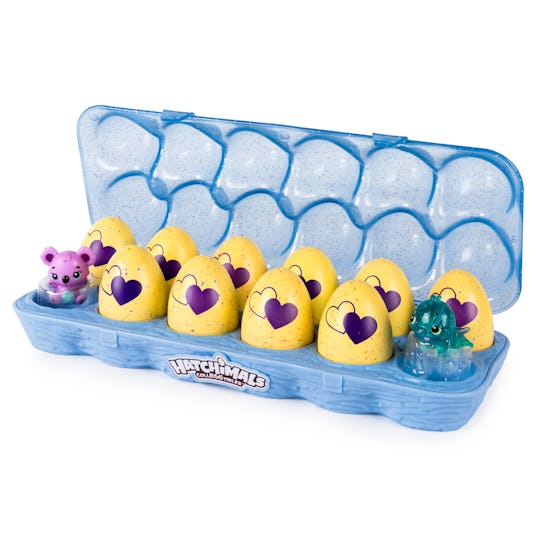 Courtesy of Hatchimals
Hatchimals Have Best Friends Now, & It's Seriously The Cutest
If you've got kids, you're probably more than well acquainted with the wide, wide world of Hatchimals. One of the hottest collectible toys to hit the shelves in years, the line debuted in 2016 as electronic plush animals that "hatched" from eggs; since then, the collection of playthings has grown to include the extremely popular Hatchimals CollEGGtibles (smaller, non-plush versions of the original toy that come in packs of varying sizes, include egg cartons). But the latest Hatchimals launch could be the coolest of all: New Hatchimals CollEGGtibles S3 features eggs that hatch twins, best friends or even squad members.
Naturally, kids are gonna go nuts for these things. First of all, any sort of "surprise" toy is always a huge hit (which explains the booming blind bag phenomenon). Secondly, the fact that these new CollEGGtible sets hatch critters that are meant to complement each other only adds to the excitement (the "twins" even come with two toys in one egg). They're all designed to work together, too, in special poses like piggybacks and hi-fives. Plus, there are over 100 new characters available, so your existing kingdom of Hatchtopia is about to get a whole lot bigger.
This Hatchimals CollEGGtibles 4-pack + Bonus Season 3 retails for $9.99 and includes four Hatchimals plus a "hatched" friend, not to mention the suspense of wondering whether or not one of those eggs will hatch twins (if none of them do, expect repeated requests for more Hatchimals). The actual process of hatching them is fun, too: Hold the egg in your hands, rub the heart, and wait for it to change color. Once it does, press on the egg to crack and tada! A new toy!
The Season Three Hatchimals CollEGGtibles One Dozen Egg Carton retails for $19.99 and comes in a new periwinkle colored carton flecked with glitter on the top (you can never go wrong with glitter!), while the bottom contains adorable little nests. Not that these nests are the only place where your Hatchimals can hang; as you're probably already aware, there are also ridiculously sweet play sets available that give Hatchimals places to play, including a Secret Scene Playset that opens up to show one of three "Glittering Gardens" with merry-go-rounds and slides.
The Season Three Hatchimals CollEGGtibles 2-pack + Nest comes with brand new "forest nests" for display featuring cool details like climbing vines (and with a price tag of $4.99, makes a perfect little reward for a a job well done or even a gift from the tooth fairy, though it might not quite fit under a pillow).
It's safe to say that this new collection (which is available now and can be purchased at Target or WalMart) is only going to add to the ongoing obsession of "Hatchifans" everywhere. To put the craze into perspective, the first episode of the Hatchimals YouTube series has 1,908,289 views... and of course there's no lack of "unboxing" videos out there starring someone's hands hatching the must-have toys. (Why kids are so infatuated with these videos I'll never know, but I can attest that my 3-year-old will sit and watch literally any pair of hands open any toy on YouTube with an unparalleled attention span. Maybe it's the little kid equivalent of scrolling through inspirational/aspirational Instagram accounts?)
Whatever the reason for the massive following of all things Hatchimals, it's clear that the formula is working, big time. And while there's no question that toy fads come and go (from Furby to Fingerlings, which are still white hot), it does seem as though Hatchimals are poised to be a pretty big deal for the long haul. In other words, clear out some space in the playroom!