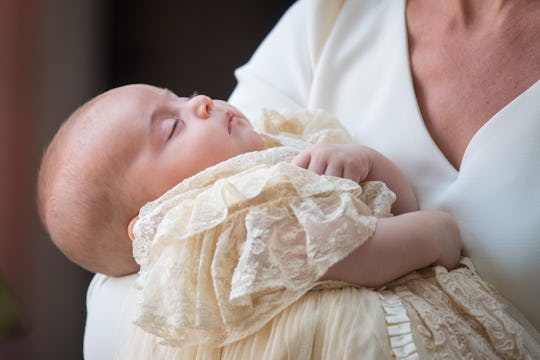 WPA Pool/Getty Images Entertainment/Getty Images
Here's When We Could Get To See Another Adorable Glimpse Of Prince Louis Again
With summer winding down, many families are preparing for the long school year and cold winter months — and the royal family is no exception. Fans have caught a few updates of Prince George and Princess Charlotte over the last few months, but what about the family's newest addition? Well, the next time you'll see Prince Louis may require a small wait.
Prince William and Kate Middleton have quite the adorable family. Their oldest son, Prince George, already celebrated his fifth birthday earlier in the summer. Princess Charlotte, the only girl, has already started nursery school at three-years-old.
It seems like time has flown by watching them grow up. People were ecstatic to welcome the couple's youngest, Prince Louis, into the royal family on April 23, 2018. Upon his birth, Prince Louis became the fifth in line of succession to the British throne, behind his grandfather, father, brother, and older sister.
Since his birth, Prince Louis has only been seen twice. The first time was his public debut outside the Lindo Wing only a couple hours after his birth, as reported by The Telegram, and then his July christening. Now, the young prince is already 4 months old and fans are starting to wonder when they will see him again.
The royal family is generally caught together during special events or for portraits. As a baby, that holds particularly true for Prince Louis, since it's not like people will catch him heading to school. So, which one will Prince Louis be seen in?
It seems that fans will most likely see Prince Louis next in a portrait. According to Hello! Magazine, a royal correspondent said:
There are no big family outings that we're aware of in the next few months... We often see them around Christmas. The family quite often sends out a Christmas card or there's some sort of image of them and I think we'd all like to see the Cambridges as a family of five. Perhaps wearing some festive jumpers!
That might seem like a frustratingly long wait, but it's already nearing the middle of September, guys. The Cambridge family is pretty well known for adorable family portraits, but the Christmas ones in particular are exceptionally cute.
Last year, the family's Christmas photo showed Prince William, Kate Middleton, and their two children standing together. The family had picked light blue for their matching color scheme. Although last years' card didn't show the family wearing festive jumpers, there's still the possibility of them donning a couple this year — you never know, right?
In addition to Christmas portraits, it's possible that Prince Louis will have his own photo session in the next few months. At 6 months old, Princess Charlotte posed for photos taken by mom, according to The Telegraph, and it's possible she'll do the same for Prince Louis.
However, there is one other special event the young prince may pop up at. Prince Louis' grandfather, Prince Charles, will be turning 70 on Nov. 14. Although nothing has been confirmed to the public, Hello!'Magazine's source reportedly said, "The children's grandfather has a very big birthday coming up... so it could be an opportunity for all the family to get together, who knows? There are reports of a big party, I'm sure there will be big celebrations."
If Prince Louis does make an appearance at a large event for his grandfather's birthday, that means fans may be able to catch a glimpse of him a month earlier than expected.
Whenever he makes his next public appearance, Prince Louis will definitely be greeted by a bunch of adoring faces who can't wait to see more of his famous smile!